Posted by Andie on August 20, 2010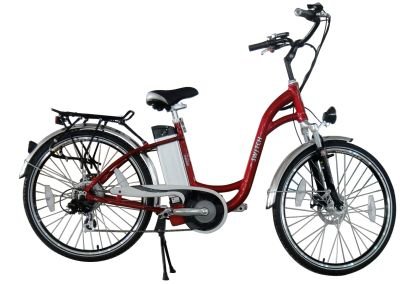 I know what you're thinking. Because I thought the same thing at first. Bikes? RC Willey? Couldn't be.... but yes, I assure you folks, it's true. RC Willey is now carrying select Electric Bikes!
I wanted to see what all this madness was about for myself, and so I test rode a bike bright and early this morning, before the parking lot was full (I wasn't about to crash into a car and have a law suit on my hands). I did as I was instructed and strapped on a bright blue helmet, twisted the throttle, and held on for dear life. Man, did I fly. I think everyone in the neighborhood heard my giddy yelps and "WAHOOOO's". It was actually WAY more fun that I anticipated, so fun that I didn't want to come back to my desk. Three guys literally had to rip me off the bike and carry me back to my swivel chair.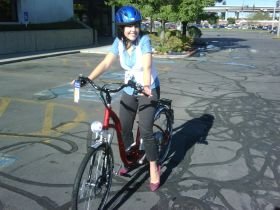 Just kidding about that last part.
Anyway. Now that I'm back at my desk, contemplating a career in electric bike testing, I thought I'd share a few of the reasons why I would love to own one of these bikes....
1. You've got options.
It's nice to have choices in life, and this bike offers plenty of them. You can turn off the motor and ride it like your normal everyday bike, you can pedal in tandem with the motor, or you can turn on the motor and simply ride without pedaling.
2. Laziness is allowed.
In what other life scenario do you get rewarded by being lazy? You can sit as still as a dead fish and get shuttled around town on this electric bike without moving a muscle. If you're lucky you might even fool people into thinking you're actually working out!
3. Workouts just got easier...
So let's say you're planning on using this bike to burn some serious calories. Great! Just know, that when you've reached the end of your road (no pun intended) and your legs have given out, or you're struggling and fighting to make it up an enormous hill..... you've got a friend in your motor. No one has to know.
Is it too early to start a Christmas list?
FYI: Just so you know, RC Willey sells the electric bike that I rode today for $899.99, while other retailers sell the same bike for $1,599.99.
Sort By Blog Topic:
Popular Posts
Subscribe to the Room To Talk Blog
Subscribe to the Room To Talk Blog
Unsubscribe from the Room To Talk Blog