Posted by Andie on September 3, 2010
I think that popcorn should have its own food group.
But that's coming from a girl who goes to the movies for dining purposes alone.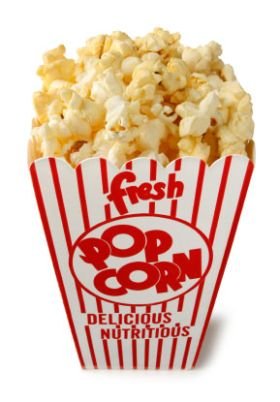 When I think about popcorn, a few memories come to mind.
#1. the time that my little brother shoved a piece of popcorn up his nose at a birthday party (for reasons none of us could ever figure out) which caused hysteria among children and neighborhood women alike. Thankfully, said nasal cavities weren't affected long term.
#2. the summer my friend went on a diet of popcorn, butter spray, and crystal light. true story.
#3. the hair scare....
Once upon a time I went to the movies with my family. I was thirteen, and in the eighth grade and a at that point in life it was lame to hang out with your family on a Saturday night. Due to the fact that I had a raging social life to attend to, I convinced my parents to round up the troops for the matinee.
As the previews for the movie (I wish I could remember what movie it was!) were starting, my dad found his way to our seats, and handed my brother, sister and I a bucket of popcorn and a large fruit punch to fight over. Perfect.
The only problem was that I had just put a brand new piece of gum in my mouth. When you're in junior high and addicted to Wrigley's EXTRA Polar Ice gum, the 15 pieces in the pack just aren't enough. Especially since each pack runs you $1.19 and the only employment you've got is scrubbing bathrooms, dusting banisters, and taking out the garbage for your weekly allowance.
No, I wasn't going to waste that precious fresh piece of gum. Not for anything. But the smell of buttery popcorn was too much to refuse. So I came up with a simple solution. I took the wet, sticky white blob out of my mouth and smashed it into the palm of my hand. That quickly got in the way of popcorn grabbing and so I switched it to the back of my hand. This proved to be a distraction as well. I needed to find a safe, out of sight place for my gum.
Suddenly a light went on! My ear! Behind my year! Yes, that was it. So I moved the wad of slimy gum to the back of my ear lobe, between the back of my earring, and my head. Genius. For the next hour and a half I watched the movie, enjoyed the popcorn, and managed to completely forget about my gum.
(Please remember at this point that I was THIRTEEN. And yes, totally stupid. Don't judge me for it now.)
After the movie ended and we were walking out of the theater my mom looked over in my direction and suddenly gasped, "Oh my gosh what happened to your hair?!" I reached my fingers up to my head in confusion, and to my horror felt a huge sticky mess. The right side of my head and my chewed up EXTRA Polar Ice Gum had decided to marry and start a family of nastiness. It was literally ALL OVER.
I can't remember all of the details, but I'm sure I screamed in terror and bolted to the poorly sanitized movie theater bathrooms in search of a solution. What I do remember is that all of my plans were thrown out the window that night as we experimented with ice, peanut butter, and other home remedies to strip hair of gum.
Lesson Learned: Never. I repeat, NEVER be so dumb as to park your chewed up gum on any of your body parts, especially on body parts next to your head.
The end.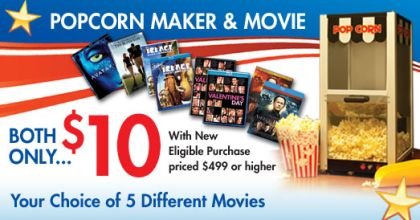 Because we like you, and want you to make popcorn memories of your own (sans hair scares), if you come in this Labor Day Weekend and spend $499.99 or more, we'll give you this AWESOME Movie-Theater Style Popcorn Maker AND a dvd of your choice for just 10 whoppers!!
Popular Posts
Subscribe to the Room To Talk Blog
Unsubscribe from the Room To Talk Blog