Posted by Michael on January 18, 2011
**UPDATE**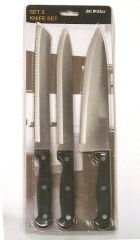 Well, I have some bad news and good news. First the bad news ... I've given away all of the $25 gift cards I was allotted, but don't fret ... I now have a FREE 3-piece knife set just for entering a recipe! I never knew there were so many Super Bowl recipes! Keep them coming. I'll post as many as I can. Thanks everyone for your awesome participation. Until next time ... happy recipe hunting!
Click here to submit your favorite Super Bowl appetizer recipe!
**END OF UPDATE**
Did you know that an estimated 14,500 TONS of chips and 4,000 TONS of popcorn are eaten on Super Bowl Sunday each year?!
Guess I might not be the only person in America who is more interested in the snack table than the football game....
With the big game in just a little over two weeks, it's time to begin our annual Super Bowl Recipe Contest! Here's the drill:
Click here to submit your favorite Super Bowl appetizer recipe!
The first five people to submit a recipe will win a free old fashioned popcorn maker, and everyone else will snag a $25 RC Willey gift card!
Best of all, you can view some of the recipes I receive on this page
so that everyone can get some fun, new appetizer ideas this year. Thanks in advance for sharing!
Here's a favorite recipe of mine. Just don't make it while you're home alone because you won't be able to stop yourself....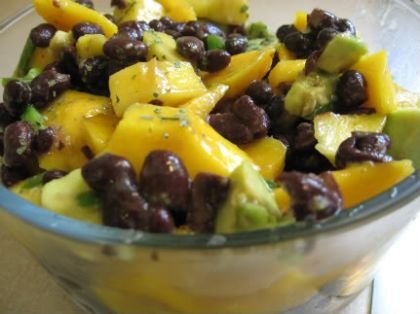 image via nanny kim's recipes
Mango Avocado Dip with Black Beans and Lime Vinaigrette
2 ripe avocados, peeled and cut into 1/2 inch cubes
3 tablespoons lime juice
1 ripe mango, pee led and cut into 1/2 inch cubes
1 jalepeno, seeded and minced
1 teaspoon salt
1/4 teaspoon sugar
2 tablespoons chopped cilantro
4 tablespoons olive oil
1 15 ounce can black beans, drained and rinsed
Fresh ground black pepper, to taste
In medium bowl, toss mango and jalepeno with 1 tablespoon lime juice and salt. Add avocado and gently toss to combine. In small bowl, whisk together the remaining lime juice, zest, sugar, cilantro and oil. Toss the black beans with the vinaigrette. Mix all together and serve with pita bread or tortilla chips.
UPDATE: Congratulations to our speedy recipe submitters! Our five popcorn maker winners are....
Melissa Halvorsen- Syracuse, UT
Tammi Perdew- Boise, ID
Kelly Bone- Layton, UT
Brad Horrocks- Eagle Mountain, UT
Stephanie Shoell- Murray, UT
Popular Posts
Subscribe to the Room To Talk Blog
Subscribe to the Room To Talk Blog
Unsubscribe from the Room To Talk Blog