Posted by Andie on January 12, 2011
Christmas is over, and the decorations are stowed away. Now all you've got to figure out is when you're going to take the lights off your roof. This can be tricky. It's dangerous business anytime of the year, not to mention when your roof looks like an ice skating rink!
For all of you folks that are bound and determined to get the lights down pronto, follow these suggestions so that you don't break your back this winter.......
1. Make sure your ladder is secure before stepping onto it.
2. Don't be stupid and try to take down the lights at night! You need plenty of light.
3. Wear eye protection so that loose branches and icicles don't poke your eyes out.
4. Don't drink alcohol beforehand! Pretty sure you don't want to be drunk 30 ft. above the ground.
5. Keep a cell phone nearby to call for an ambulance.
6. Don't try to show off for your kids by doing kart wheels on the roof.
7. Don't attempt to use hairdryers or hot air popcorn poppers to melt the ice.
8. Make sure your will is up to date.
9. Turn OFF the lights before taking them down so that you don't get electrocuted.
10. Don't take the lights down until July, or when the ice has completely melted.
11. Hire somebody else to come and submit themselves to your icy roof.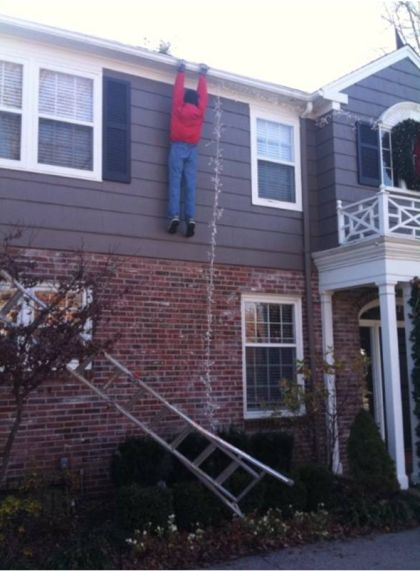 Popular Posts
Subscribe to the Room To Talk Blog
Subscribe to the Room To Talk Blog
Unsubscribe from the Room To Talk Blog