Posted by Andie on January 14, 2011
Six months ago my neck was killing me. I was waking up every morning with an intense shooting pain, and I was frustrated because I couldn't determine what the problem was. I'm only 25 for crying out loud! Neck pain already? This went on for months, and nothing relieved the pain. I finally chalked it up to stress, and figured I was just going to have to live with it. Until the night I had a major breakthrough.....
I couldn't sleep because my neck was bothering me, and in utter frustration I chucked my pillow across the room. I woke up the next morning without a pillow, and without the normal back pain I was accustomed to. This got me thinking. Could my pillow really be the problem? You see, I was emotionally attached to my pillow. Heck, I'd used it since middle school at least! It suddenly became very clear to me that ten or so years had really taken a toll on the thing. Once it had been perfect and plump, but now it was just a sorry little flat pathetic wad of lumpiness. And so, after much contemplation (remember, I was freakishly attached) and persuasion from my husband, I said sayonara and took it out to the dumpster.
Instead of buying a random new pillow at a department store and hoping it would work out, I decided to do a little research to learn what kind of pillows are best for side sleepers like me. I discovered that RC Willey carries a great selection of pillows, ranging from $4- $400. How is that I work here and didn't know that!? Anyway, I went down to an RC Willey showroom, found a mattress that was similar to mine in firmness, and began testing pillows.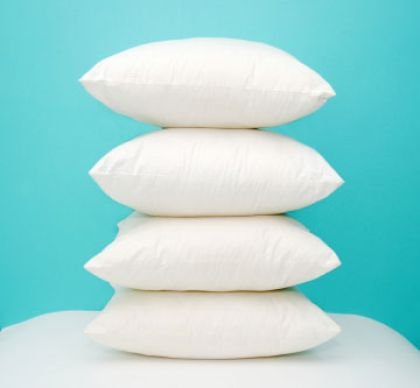 After trying out about a dozen pillows, I ended up buying a Tempur-pedic neck pillow, and a Health Care air pillow. Please hear me out when I say that THEY HAVE CHANGED MY LIFE!! I'm healthier, happier, and I can sleep through the night now! And best of all, my neck pain is completely gone. I've become such an advocate of finding the right pillow for your body, because it makes all the difference!
Looking back, I wish I wouldn't have wasted so many years of my life sleeping on a crappy pillow. And I don't want you to either! So, I'm going to give two of you readers a pair of wonderful new pillows! For a chance to win, all you have to do is become a blog follower if you aren't already, and leave a comment by Thursday Jan. 20th at midnight telling me why it's time for you to trash your pillows! Two random winners will be announced Friday, Jan 21st!
Since everyone is different and the pillows I love might just make you miserable, the winners will get to go to their nearest RC Willey for a free consultation and get "pillow fitted" for two new Health Care Air, or Latex International pillows (both brands carry different styles for stomach, side and back sleepers!) In the meantime, go into RC Willey and test out our fine selection of quality pillows! You won't regret it!
Sort By Blog Topic:
Popular Posts
Subscribe to the Room To Talk Blog
Unsubscribe from the Room To Talk Blog