Posted by Andie on October 14, 2011
I have one goal for myself this weekend, and one goal only. I don't care if my house doesn't get cleaned, laundry doesn't get done, projects don't get finished (or worked on for that matter), or if we have to live off ramen noodles because I don't go to the grocery store.
But mark my words, I WILL take a trip to the pumpkin patch!!
It's mid-October, and my home is still pumpkin-less. Shameful, right?
The important thing is that I have a plan. After picking out my new pumpkins, I'm going to give them the royal Martha Stewart Treatment.....read: beautify, be-dazzle, glamify. Say hello to a little glue and colored glitter, and VOILA.... you've got yourself some lovely, classy showcase pumpkins!
image via martha stewart
I also really like the idea of putting a can of gold spray paint to use in addition to the glitter! Such a fast, simple way to spice up a plain pumpkin.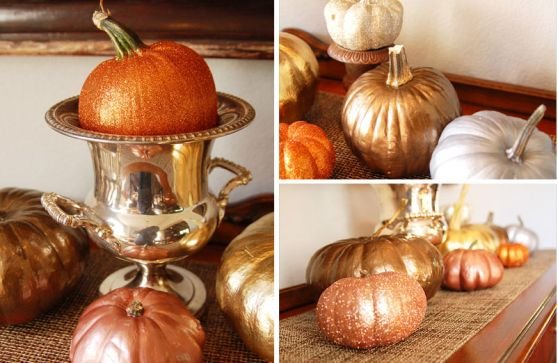 image via wild ink press
Thank you Martha, from the bottom of my Autumn loving heart.
Check out her glitter-pumpkin tutorial.
Have a great weekend!
Popular Posts
Subscribe to the Room To Talk Blog
Subscribe to the Room To Talk Blog
Unsubscribe from the Room To Talk Blog