Posted by Andie on November 2, 2011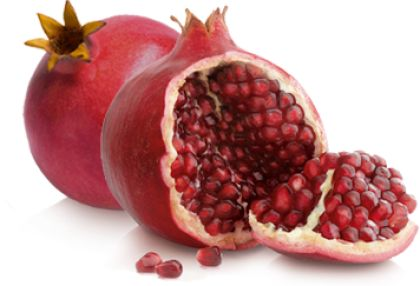 image via POM Wonderful
Did you know that November is National Pomegranate Month?
Pomegranates are one of the healthiest fruits you can eat. In addition to being delicious, they are chuck full of antioxidants, which are scavengers that neutralize free radicals in your body and prevent against disease. According to POM Wonderful, here are a few of the health benefits that scientists have found that pomegranates bring to the table: slows prostate cancer, decreases LDL cholesterol, improves blood flow, reduces blood pressure, and aids in quicker muscle recovery after exercise.
Sign me up! With all of the fatty holiday eating that is just around the corner, I'm going to try to start getting more pomegranates into my diet this month.
Here are a couple of my favorite pomegranate recipes (not saying they're necessarily healthy, but they're definitely tasty):
Cranberry Crunch Salad
2 12 oz. bags of fresh cranberries
3 cups sugar
1 28 oz. crushed pineapple (1 large and 1 small can)
2 cups red grapes, halved
1-2 cups chopped pecans
3 cups whipping cream, whipped
1 pomegranate, seeded
Freeze cranberries then grind frozen cranberries in the blender. Mix cranberries and sugar and let sit overnight in refrigerator. The next morning put cranberry sugar mixture in a strainer along with the crushed pineapple and allow to drain for 2-3 hours. Mix in grapes and pecans. Whip the whipping cream until stiff and fold into cranberry mixture. Refrigerate until ready to serve.
Pomegranate Christmas Salad

Two heads romain lettuce
Shredded Swiss Cheese
1 Pomegranate, seeded
A little minced onion
Slivered almonds
2 Cans mandarin oranges
Good bottled or homemade poppy seed dressing

Poppy Seed Dressing

1/3 C. Oi1
1/3 C. Sugar
1/3 C. Red wine vinegar
1 T. grated onion
1/3 t. prepared mustard
¾ t. salt
1 T. poppy seeds
Anyone know of any good recipes that include pomegranates?
Share them in the comments section! I need all the help I can get in this department, and I'm sure other readers would love to get recipe ideas too!
In other news, Congratulations to Leslie, our Get Connected Giveaway Winner! She's got a FREE Sony 16GB Tablet coming her way!
" With school, family abroad, and an on-the-go lifestyle the only way to go is to have something that is portable as the Sony 16 GB TABLET. I can only imagine the power that something so small can help me stay connected and organized!"
Leslie, email me (andie@rcwilley.com) and I'll get you your tablet ASAP!
Thanks for entering everyone!
Popular Posts
Subscribe to the Room To Talk Blog
Unsubscribe from the Room To Talk Blog