Posted by Andie on February 11, 2011
Congratulations to the RC Willey flooring department! They were recently presented a Lammy Award by the NALFA (North American Laminate Flooring Association) recognizing them as...
"2010 Dealer of the Year"
In honor of this prestigious award, I think it's only appropriate to discuss laminate today. Stay with me, folks! This is not going to be a boring tutorial.....
Let's be honest for a moment. When I hear "laminate" the first word that pops into my head is "CHEAP!", followed by "FAKE!", followed by "PLASTIC!". Anyone with me? I'm sorry to say it, but for those of us who think along those lines, apparently we are stuck in the 1990's. Let's just pray and hope that our clothing choices and hair styles don't reflect that.
Anyway. I digress.
After doing a little research, I was surprised to learn that laminate has come a LONG way since it's debut in the 90's. Back then, tongue and grooves had to be glued together during a floating installation, and laminate floors looked more like plastic roller skating rinks than anything. Well, thankfully we've not only seen the fashion world blaze forward since then, but technology has also made huge advancements in the production, installation, look, and feel of laminate. Thank goodness!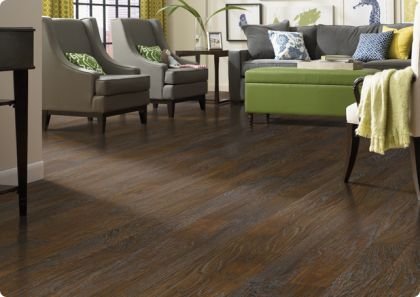 Today, glueless click lock technologies are standard on laminate hardwood and rigorous etching, bleaching, staining, and leaching processes make it look more realistic than ever before. In addition to looking great it's also durable, long lasting, and significantly less expensive than other hard floor surfaces!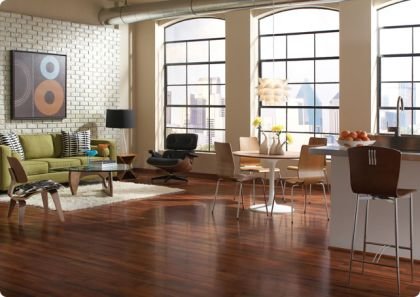 Here are just a few of the reasons laminate is a beautiful, wise investment for your home:
- Stain, fade, and moisture resistant
- Looks like real wood
- Easy to clean and maintain
- Easy to install
- Environmentally friendly
- Affordable
- Extremely durable
- Available in a variety of styles
So.... next time you are re-doing floors in your home, go ahead and consider laminate! For more info, visit our Flooring page!
images via NALFA
Sort By Blog Topic:
Popular Posts
Subscribe to the Room To Talk Blog
Unsubscribe from the Room To Talk Blog