Posted by Andie on February 18, 2011
I decided to make a home-made gift for my husband for Valentine's Day this year. I really wanted it to be meaningful and to evoke lots of memories. After searching the internet for ideas, I ended up re-creating a Valentine's project I found on the Smith's blog, a Heart Art Travel Display. One of our favorite things to do together is travel, and so this was the perfect way to document the places we've been able to visit together since we started dating.
Here's the final product. I absolutely love it.......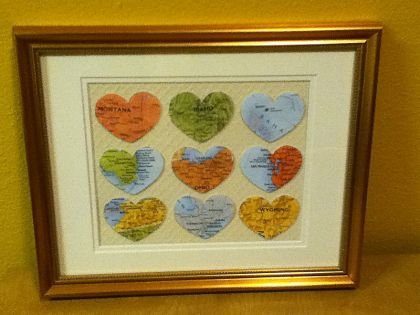 Here's what you'll need to make this SUPER EASY project:

Picture frame (I used an 11 X 14 but you can use whatever size tickles your fancy)
Mat to put in the frame
1 large piece of cardstock paper
Map of the U.S./World that you can cut up
scissors
double sided foam adhesive stickers
rubber cement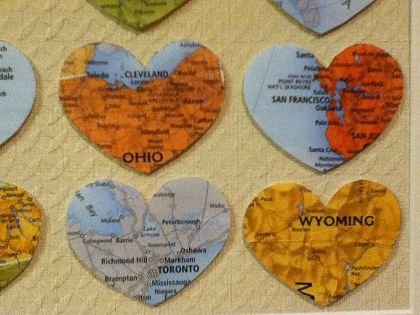 Instructions:
1. Get your heart template, and trace hearts over places you've been on your map.
2. Cut out the hearts (you can use as many or as little as you want... I decided on 9).
3. Paint the front of the hearts (the map side) with rubber cement (this will make them more glossy and shiny).
4. After the hearts dry, back them with the foam stickers (this will give the hearts a 3-D effect).
5. Stick the hearts to the piece of card stock paper (I like the way the patterned paper I chose looked in the background).
You're Done!!
6. Insert into the picture frame and hang it on your wall to be admired!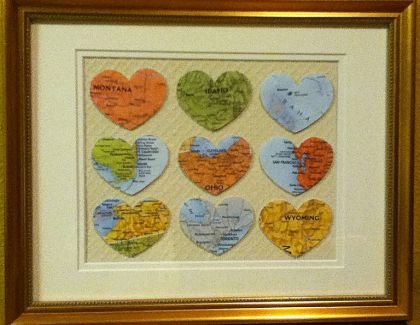 Thanks to the Smith's for the great idea! I think my husband loves it almost as much as I do!
Sort By Blog Topic:
Popular Posts
Subscribe to the Room To Talk Blog
Subscribe to the Room To Talk Blog
Unsubscribe from the Room To Talk Blog