Posted by Andie on March 1, 2011
This morning I got to work and found a surprise package sitting on my desk. There wasn't a return address or note, but I knew exactly what friend had sent it to me when I opened it up and found this necklace.....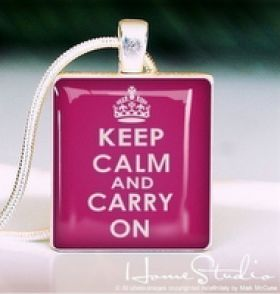 I'd seen the "Keep Calm and Carry On" posters and other products before, but never in necklace form (I might be late on this trend but I wanted to share anyways). The pendant is actually made from a recycled Scrabble tile. Mine is green and has the letter O on the back. So clever and creative!
If you're interested in getting your own pendant, or gifting it to a friend, they are super inexpensive and there are dozens of shops that sell them online. For those of you who love the slogan, but jewelry isn't your thing, there are plenty of other products you can find with the same message.
Thank you Thank you, to my wonderful friend for the thoughtful gift, and for the necessary reminder! Don't we all need it every once in a while?
If you haven't heard about the unique origins of the "Keep Calm And Carry On" slogan, read on!
Sort By Blog Topic:
Popular Posts
Subscribe to the Room To Talk Blog
Subscribe to the Room To Talk Blog
Unsubscribe from the Room To Talk Blog