Posted by Andie on March 23, 2011
A few months ago we decided to invest in a Sony 3D-Ready 1080p HDTV. I wasn't super thrilled about the idea at first since our apartment is pretty small, and I didn't want the TV to be the main focal point of the room. After all, 46" seemed a lot bigger than the 32" TV we had at the time. But, the price was right, and I could tell my other half was completely infatuated with this glorious TV and so I decided to compromise. After all, he always puts up with my decorating splurges.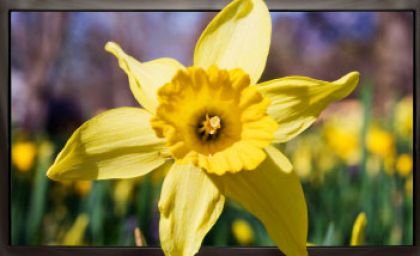 While originally I thought this purchase was mostly going to be my husband's toy, I've ended up loving it just as much (if not more) than he does! Here are the top five ways this TV has impressed me.....
1. Channel Surfing Made Easy
I am not a tech savy person, and I probably never will be. In the past, I've given up on learning how to work a new product out of sheer frustration. This time has been refreshingly different. It was so simple to learn how to navigate around and work the remote- I even taught myself!
2. A TV That Doesn't Crash Your Decorating Party
Unlike some TV's, this one is aesthetically pleasing. Like I mentioned, I didn't want everyone who walked into our living room to only notice the TV... and luckily, they don't. The design is Super lightweight, sleek, and thin. Along with taking up virtually no space at all, it also doesn't scream for attention.
3. Am I Really Watching TV??
The 2D viewing settings are absolutely stellar. Normally, I don't really notice if a TV has a good or bad picture (my co-workers think I'm crazy) but once we plugged this puppy in, I DEFINITELY NOTICED. I haven't ever seen a more incredible picture up close.
4. Never A Dull Moment
My very favorite feature is that we can get the internet through the TV! Hello instant Netflix, Pandora, NPR, YouTube, Hulu, and more. Even when it seems like nothing is on TV, you've got an endless array of other options! I am constantly using the TV instead of my laptop.
5. Early Adopting
We still haven't purchased our 3D glasses (that might be a little ways down the road), but just knowing we have the option is nice! As more and more 3D content comes out it makes me excited to get watching things in 3D!
Unfortunately RC Willey sold out of the 46" Sony 3D TV that I bought, but the good news is that we still have plenty of the Sony 3D 55" TV! (This is the exact same TV that I have, only bigger!) Whether you are looking to buy a new TV or not, I highly recommend checking it out! We also have several other brand new on the market 3D TV's in our store locations, so stop by!
Sort By Blog Topic:
Popular Posts
Subscribe to the Room To Talk Blog
Subscribe to the Room To Talk Blog
Unsubscribe from the Room To Talk Blog