Posted by Andie on April 29, 2011
Never invite company over when you're testing a new recipe.
(unless of course you're tying to scare them away!)
My husband's birthday was last week, and so naturally I'd been mulling over what kind of cake I was going to make for days. Birthday cakes, and parties for that matter, are a big deal in my book. We were going to hang out just the two of us all day, and so I invited a few friends over to help us celebrate and eat cake and ice cream later that night. After flipping through almost every cookbook I own, I decided to try a new recipe. It was a white cake with butter cream frosting from my favorite New York bakery's cookbook, and so I figured it would not disappoint.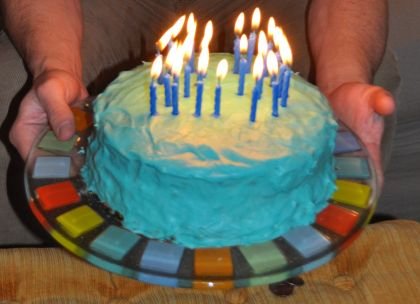 Exhibit A: The first, and positively disgusting, birthday cake
Oh, don't worry. It not only disappointed, it totally BOMBED!!!
Now, just to set the record straight, I am a pretty good baker. Not to tute my own horn or anything, but I know how to follow a recipe, and usually I take pride in serving tasty baked goods to neighbors, friends and family.
Not this time.
After the first bite I knew I had made a horrific mistake. What was I thinking trying out a recipe for the first time with company over??! The cake wasn't sweet or moist or even remotely appetizing. It had absolutely no flavor, and it was painful to swallow. The only half redeeming quality about this pile of sickness was the frosting, and that's being generous.
Once my friends started raving about how good the boring ice cream tasted, I knew the ship had sunk. Nobody uttered a word about the cake. It was the elephant in the room everyone danced around. Looking back, I should have provided a little comic relief, but I was too stunned/horrified/embarrassed to think straight.
I was, and still am, absolutely mortified. And yes, you guys, it was that bad.
Please learn from my mistake.
Thankfully, the story has a happy ending.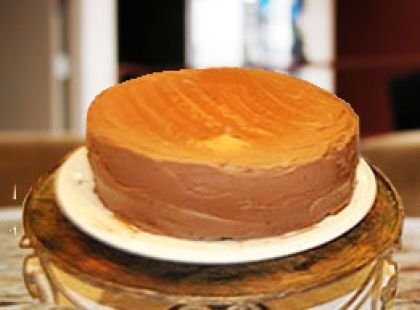 Exhibit B: The second, and incredibly scrumptious, birthday cake.
We had another birthday party a few days later with my family, and luckily my mom pulled through and made this uber delicious chocolate beauty. As opposed to the first mess of a cake, this baby was totally incredible in every way. I wanted to scarf down three pieces. It was amazingly moist, and the frosting was so good you'd lick it off the floor. It's definitely my new favorite chocolate cake at the moment, and so I just had to share!! It's found in the Keeping up Cookbook, which in and of itself is a miracle in my life.
Favorite "go-to" Chocolate Cake
2 cups flour
1/2 cup cocoa powder
2 teaspoons baking soda
1 teaspoon salt
1/2 cup butter, softened
2 cups sugar
2 teaspoons vanilla
2 cups boiling water
2 eggs
Sift together dry ingredients and set aside. Cream together butter, sugar and vanilla. Mix in boiling water, then add eggs and mix well. Gradually add dry ingredients and mix until well combined. Pour into greased 9" x 13" pan. Bake at 350 degrees for 25 to 30 minutes, or until toothpick comes out clean. Frost cake while slightly warm with vanilla or chocolate buttercream frosting.
*Sidenote: Instead of using a 9" x 13" pan, my mom decided to make it into a round layer cake. She poured the batter evenly into two 9" round pans, and put a layer of frosting in between the cakes before frosting the rest. I loved it this way.
Don't panic when the batter seems too runny... that's the secret to the cake's moistness!
Chocolate Buttercream Frosting
1/2 cup butter, softened
3-4 cups powdered sugar, sifted
1/2 cup cocoa powder, sifted
1/4 cup milk
2 teaspoons vanilla
Cream butter in a mixer, then beat in 3 cups powdered sugar, cocoa powder, milk and vanilla. Continue adding powdered sugar until desired consistency is reached.
Popular Posts
Subscribe to the Room To Talk Blog
Subscribe to the Room To Talk Blog
Unsubscribe from the Room To Talk Blog