Posted by Andie on April 12, 2011
The other day I was perusing an RC Willey showroom floor and I found this little gem of a reclining sofa. I stopped and stared in amazement and wonder at the slim and modern design. I loved the look, but had doubts as to whether it was actually comfortable. Seconds later I was fully reclined, drifting off to sleep, and cursing myself for having sat down. Getting up was complete torture.
Don't let looks fool you, this stylish sofa is a cozy little thing.
While traditional recliners tend to be big and often quite bulky, this sofa is sleek, and boasts a fairly small frame. It also features three separate recliners! It's the perfect solution for people who swing on the modern side of life or have limited space in a room. Don't you think it's pretty?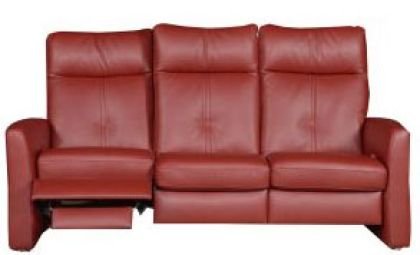 I've been dreaming up what I'd pair it with in my apartment. A matching love seat is also available, but I like the sofa best with an eclectic assortment of furniture and accessories. Here's my quick take on it....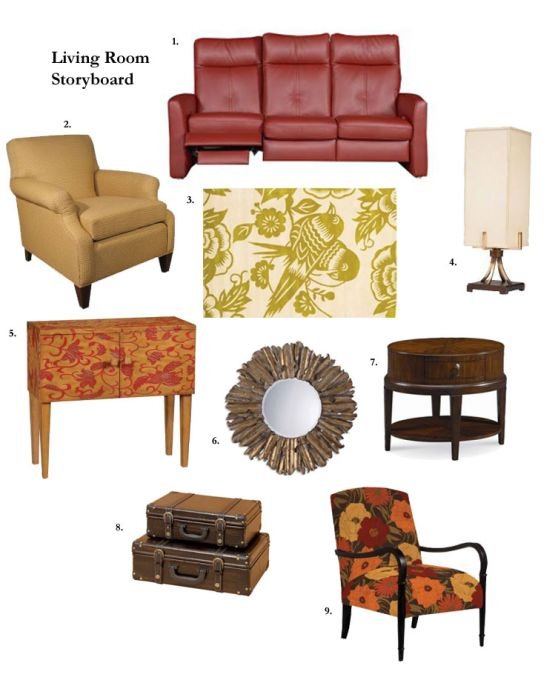 1. Brick Red Leather Reclining Sofa
2. Taupe Upholstered Club Chair
3. The Thomaspaul Collection by Chandra Area Rug
4. Kichler Table Lamp
5. Coast to Coast Embossed Cabinet
6. Uttermost Co. Round Mirror
7. Schnadig End Table
8. Uma Large Leather Box
9. Floral Upholstered Accent Chair
What do you think?
P.S. Just realized the sofa is on sale right now! Also, just found out that this darling recliner is designed to go with the sofa!
Popular Posts
Subscribe to the Room To Talk Blog
Subscribe to the Room To Talk Blog
Unsubscribe from the Room To Talk Blog