Posted by Andie on May 18, 2011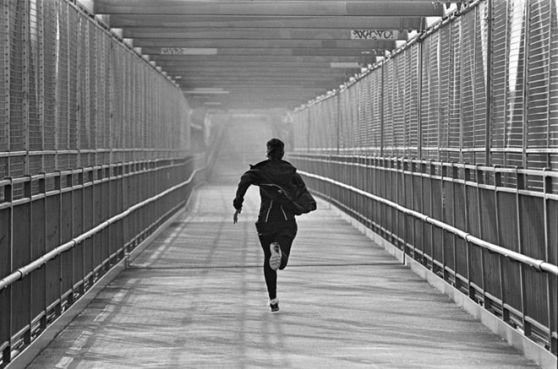 Tim Barber "Burning Bridges" via HUH Magazine
My husband just ran his first half marathon last month, and he's currently training for a marathon in October. My idea of exercise? Walking to the drinking fountain from my desk at work. He's really good at making me look like a total slacker (unintentionally of course) in the fitness department.
The thing is, I haven't always been this sedentary! In high school and college I ran almost every day, and they knew me by name at the gym. Once I got a full time job though I gradually started letting my exercise habit slip. It became super convenient to chalk my laziness up to the fact that I was so busy and there just wasn't enough time in the day! Sound familiar to anyone?
After being inspired by many of the people that ran across the finish line at the SLC half marathon a few weeks ago, I decided it was time. Time to start exercising again. Not because I wanted to lose any weight, lower my blood pressure, or obey doctor's orders (all of which are good reasons if they are applicable to you). For me, this decision was more about proving to myself that I was capable. That I could set a goal, and make it my reality, even if it was hard.
I'm still hammering out the specifics, but I do know that my "goal" involves running and training for a race, getting back into pilates, and engaging in some weight training. Suddenly I feel all of this motivation and can't wait to reap physical benefits (like an overall healthier, fit body), as well as emotional benefits too. Bring on the endorphins!
Starting back at square one is humbling, yet strangely exciting. Yesterday I went on a run in my neighborhood for the first time in forever. I ran 1.5 miles without stopping. My lungs were on FIRE and I seriously contemplated whether burning lungs could result in immediate death.
Baby steps.
I'm on board though, and loving it.
What do you do to stay physically and emotionally healthy, and how do you remain motivated?!
Sort By Blog Topic:
Popular Posts
Subscribe to the Room To Talk Blog
Subscribe to the Room To Talk Blog
Unsubscribe from the Room To Talk Blog