Posted by David on July 12, 2011
Last weekend, my mom made this fresh fruit tart and invited us over to help partake. I speak the truth when I say that it changed my life. I almost always prefer chocolate desserts over fruity treats, and so I was shocked when this little fruit tart won my heart! I couldn't believe how wonderful it tasted! It was the perfect mix of sweet and a little sour (the glaze is made with limeaid), and I would have eaten twelve pieces by myself had there been enough. I sort of felt like I imagine Columbus did when he discovered America- A WHOLE NEW WORLD!! WOW!!!
Hello world of delicious fruity desserts- I never knew you existed before, but I can't wait to get to know you!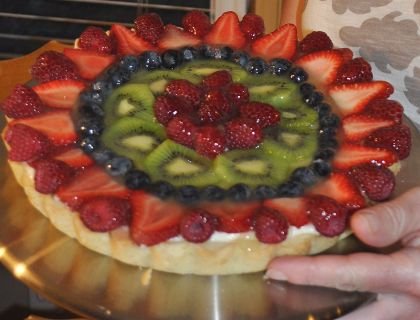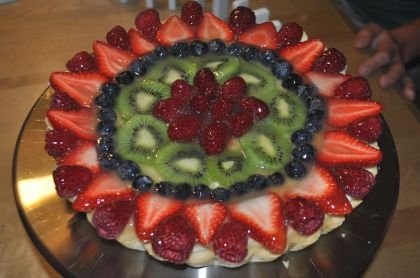 please ignore the dominos and the hand in the background... obviously i'm an ametuer photographer
And so my friends, here is the recipe that just might change your life too!
Fresh Fruit Tart (To die for)
-Shelley Davies
Crust:
1/2 C. Powdered sugar
1 1/2 C. Flour
1 1/2 Sticks of butter, softened and sliced
Preheat oven to 350 degrees. In a food processor, combine the powdered sugar, flour and butter. Process until the mixture forms a ball. Press dough with your fingers into a 12 inch tart pan with a removable bottom. Carefully press the crust evenly and into the fluting on the side of the pan. Work with it carefully until it is smooth and evenly distributed. Bake for 10-12 minutes, until barely browned. Set aside to cool.
Filling:
8 oz cream cheese
1/2 C. granulated sugar
1 t. vanilla extract
Beat the cream cheese, sugar and vanilla together until smooth. Spread over cooled crust and refrigerate for 30 minutes.
Fruit:
Strawberries, kiwi slices, raspberries, blueberries
Slice the strawberries and arrange with the outer flesh of the strawberry showing around the edge of the crust. Next, add a circle of blueberries. Follow with a circle of kiwi slices, and then a circle of raspberries.
Glaze:
6 oz can frozen limeade concentrate, thawed
1 T. cornstarch
1 T. fresh lime juice
1/4 C. granulated sugar
Combine the limeade, cornstarch, lime juice and sugar in a small saucepan and cook over medium heat until it is clear and thick, about 2 minutes. Let cool. Spread on the tart with a silicone pastry brush (you will have some glaze left over). Refrigerate 10 minutes before serving. Garnish with whipping cream.
Popular Posts
Subscribe to the Room To Talk Blog
Subscribe to the Room To Talk Blog
Unsubscribe from the Room To Talk Blog