Posted by Andie on August 3, 2011
There are few things I've looked forward to as long and painstakingly as getting my drivers license. My birthday was at the very end of the school year and so consequentially I was the last one out of my friends to drive. By the time I finally turned sixteen, I managed to fail my first driving test (I swear, the guy was a jerk and had an agenda) which made things even worse. My little world crumbled around me for a day or two, but I prevailed! Once I passed the test, got my license, and had the keys to a Buick in my hands (yes, it was a total grandpa car), I was confident life couldn't get any better.
That is, until I had to fill up the car with gas for the first time.
I remember standing slumped over at the gas pump, staring in disbelief as the numbers went up, up, up, up! It cost eighteen dollars back then to fill up my whole car. While it seems like petty cash compared to gas prices nowadays, 18 bucks was a lot for my sixteen year old self! I worked at a tanning salon for crying out loud! I was shocked, mortified, and just plain confused. Why was gas so expensive anyway?
And that's when it hit me. Driving was totally over-rated.
Over the years I've realized there are certain things in life that no matter how badly you need them, you never want to fork out the dough to pay for them. The list includes, but is not limited to:
paying for gas!
getting new tires
ALL car problems in general
broken air conditioners/ heating systems
cleaning supplies
medical bills
parking
freezers
ATM fees
airline baggage fees
college textbooks
vacuums
Who's with me?? Anyone else hate paying for these things?
Well, you're in luck if you do! While we don't have mechanics on site to fix your cars, and we can't pay your medical bills or abolish ATM fees, we are having a Frigidaire Freezer Giveaway! You might love spending $650 on a nice freezer, but if you're like me, you could probably find a few other things you'd rather buy first- which is why this is the perfect giveaway!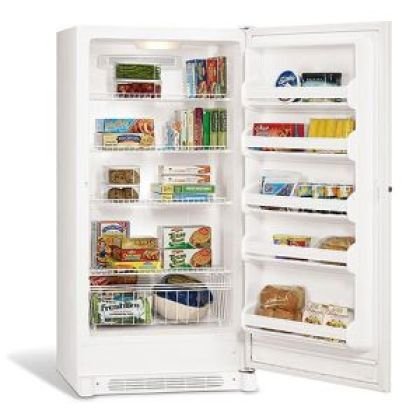 Three lucky winners will win a white-on-white 16.7 cu. ft. Capacity Upright Freezer! Don't you think this freezer could really improve your frozen food situation? Man, I wouldn't know what to do with all this space! What a beautiful thing! Make sure you enter our Frigidaire Freezer contest page by Friday, August 5th for a chance to win!
Sort By Blog Topic:
Popular Posts
Subscribe to the Room To Talk Blog
Subscribe to the Room To Talk Blog
Unsubscribe from the Room To Talk Blog