Posted by Andie on September 2, 2011
As a kid I remember learning the "don't wear white before Memorial Day or after Labor Day" rule, and out of fear I observed it sacredly from year to year. Hello! I didn't want to be a walking fashion faux pas at school! Over time though, I realized how ridiculous and absurd this social custom was/is.
So who made this strange rule up anyway?
After doing a bit of research, it's clear that no one really knows exactly how this hard-lined etiquette rule came about. However, there are several theories out there. Some believe it was out of practicality and that wearing white was simply a way to stay cool in the hot summer months. Others argue that elitists at the top of the social chain established the post- Labor Day moratorium on white clothing (along with countless other rules) in the early-mid 1900's as a means of preventing middle class folk from entering high society. Interesting, don't you think?
Even though I think it's pretty bogus, I still find myself subconsciously avoiding certain whites in my closet after summer. (Why is this?) I think if you can get away with breaking the so-called rules, you should! After all, those people who are daring enough to disregard the rules are usually the ones whose style we celebrate. Coco Chanel made white a staple part of her year-round wardrobe, so you should too!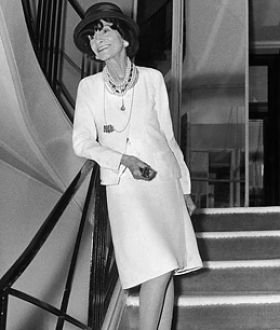 Coco Chanel in one of her signature white suits, 1969
via Time magazine
Where do you stand on the white rule?
Follow it strictly? Ignore it completely? Ever heard of it?
P.S. No matter your post- Labor Day white wearing philosophy, the good news is that decorating with white in your home is ALWAYS in!
Congratulations to our Labor Day Camcorder Giveaway Winners, Clare Roberts (who will be chopping wood this weekend) and Lana (who is going to a baby Christening this weekend)! Ladies, contact me at andie@rcwilley.com and give me your information and I'll get these camcorders in the mail right away!
Have a great Labor Day Weekend everyone!
Sort By Blog Topic:
Popular Posts
Subscribe to the Room To Talk Blog
Subscribe to the Room To Talk Blog
Unsubscribe from the Room To Talk Blog