Posted by Andie on September 14, 2011
Confession: I have never watched the entire Star Wars Series.
To you Star Wars groupies who already think less of me, I promise it's nothing personal. I haven't avoided them on purpose! I've heard they are fantastic, timeless and wonderful, and I agree that I should probably see them someday.
I've been informed that this Friday, September 16th is an epic day for Star Wars fans around the world! Why? Because the Complete Star Wars Saga blu-ray 9 disc boxed set is going to be available for sale! Folks, this is a very.big.deal.
Since RC Willey loves Star Wars, we're going to throw Star Wars Blu-ray Release parties at all of our regular store locations Thursday, September 15th from 6pm until midnight! We'll have prizes, food, photo ops, and Star Wars movies playing all night long!
Come in costume THURSDAY EVENING and you'll be able to buy the set for $79 (no purchase necessary). Spend $799-$999 and you can get it for $39, and spend over $999 and it's yours for just $19! Box sets will be released at 12:01 am Friday morning! If you don't want to stay until midnight though, you can purchase the box set and receive a certificate to redeem it sometime the next day or week.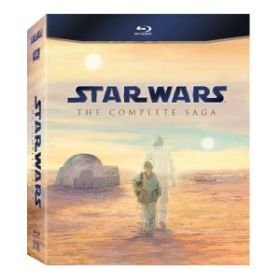 Just to get you all excited, I'm going to give away a Star Wars Complete Saga box set to one of you readers! Leave a comment telling me what I'm missing (why I need to watch the whole Star Wars Saga), and I'll pick a random winner on Friday morning!
Good luck, and we'll see you Thursday night!
Sort By Blog Topic:
Popular Posts
Subscribe to the Room To Talk Blog
Subscribe to the Room To Talk Blog
Unsubscribe from the Room To Talk Blog