Posted by Andie on September 23, 2011
Sometimes brand name and generic products are so similar in quality, that it's a no-brainer to buy the cheaper stuff. When it comes to aluminum foil, garbage bags, dish soap, and basic food supplies, I'm always happy to throw the generic version into my cart to save a quick buck! However, if we're talking about toilet paper, tooth paste (basically all personal hygiene items), plastic wrap, or bread.....well, I'm just not willing to compromise!
Everyone has their own unique preferences, which results in very different shopping habits. Some of you might have no problem with cheap toilet paper, and if you don't, good for you! Your grocery bill is probably cheaper than mine.
Here's the thing though.
When it comes to buying a mattress, I don't care who you are or where you came from, NOBODY should settle for a cheap version. Doing so (and I'm sure plenty of you reading this are currently sleeping on a terrible mattress) is simply unthinkable. Why, you ask? Do you realize that approximately 1/3 of your ENTIRE LIFE will be spent sleeping? How about the fact that your productivity as a human being is about 7.3 million times more effective after a good night's sleep?
The fact is, a wonderful mattress NEEDS to be your top priority. For the sake of your health, happiness, and prosperity! And don't even think about convincing yourself that you don't deserve it.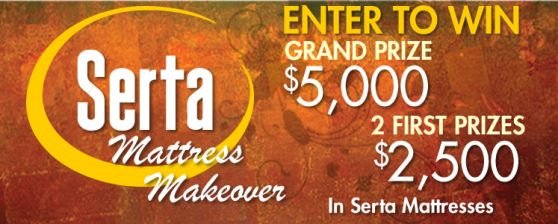 The good news is that RC Willey wants to help a few of you. We're having a Serta Mattress Makeover Contest! The grand prize winner will get $5,000, and two first prize winners will get $2,000 to put towards mattresses for their homes! Enter the contest now, and come start testing out new mattresses!
P.S. Here are 9 Ways to help you get a better night's sleep!
Sort By Blog Topic:
Popular Posts
Subscribe to the Room To Talk Blog
Subscribe to the Room To Talk Blog
Unsubscribe from the Room To Talk Blog