Posted by Andie on October 31, 2012
Most of my very favorite Halloween memories are from my childhood. For me, Halloween is my mother's homemade chili in bread bowls, family costume parties where we'd paint pumpkins, make caramel apples, and eat donuts off of string. Halloween means carving pumpkins on newspaper in our garage and throwing pumpkin goo on my little brother. Watching scary movies on bales of hay in a barn, getting lost in a corn maze, and hunkering down on Halloween night to sort my Trick or Treat spoils.
I was recently looking at some old photos and came across this one of my little brother and I dressed up as Snow White and one of the seven dwarfs for Halloween in 1988.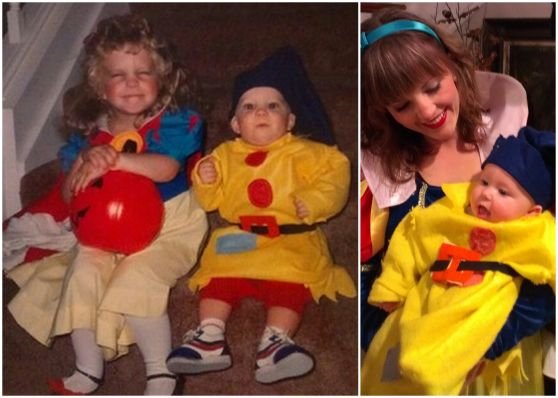 Last week, twenty four years later, I found myself dressing up as Snow White once again, but this year I have my own little dwarf who wore his uncle's vintage costume.
It's amazing how as much as things change, some things never really do. What goes around comes around, and for that I am grateful. Whatever phase of life you're currently in, hope you eat a lot of candy corn, and have a safe and happy Halloween!
Sort By Blog Topic:
Popular Posts
Subscribe to the Room To Talk Blog
Subscribe to the Room To Talk Blog
Unsubscribe from the Room To Talk Blog