Posted by Andie on November 15, 2012
* I know many of you aren't fans of the retro sunburst mirror (given comments from this blog post), but for those of you who like the look, here's a fun easy tutorial to make your own!......
Do you ever see products at farmers markets or boutiques priced so outrageously high and think, "Seriously? I could totally make that myself! And for a fraction of the price!" Listen. I'm not the craftiest gal out there, but that's never stopped me from trying to re-create a craft! Sometimes I over-estimate my abilities, but I'm always up for a good challenge!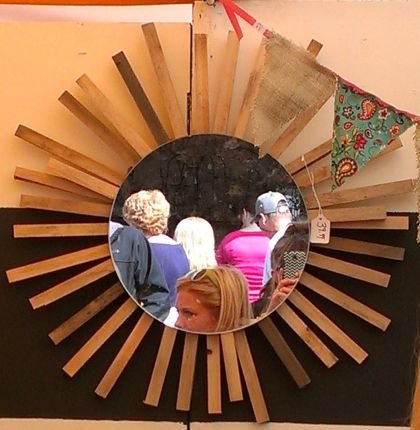 Several weeks ago, I happened upon this sunburst mirror at a local festval/craft fair. It was selling for $39.00. I thought about it all weekend. I could do that! Easy peasy! For a heck of a lot less than 40 bucks too! So I got right to work. Here's how I did it: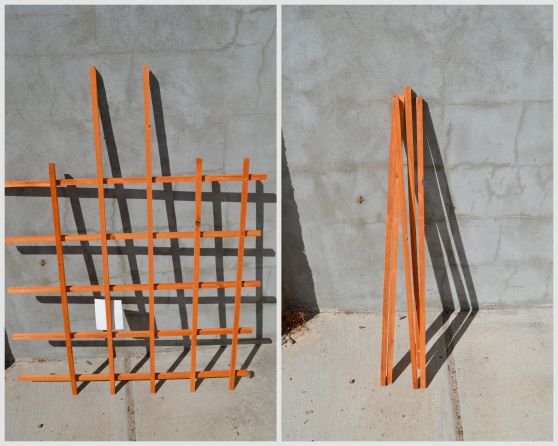 1. I scrounged around in my garage, and found a garden trellis. The wood spokes on the mirror at the craft fair were thin (I think they actually might have been paint stir sticks), but I wanted mine a bit thicker. I broke up the trellis and got a pile of wood to start working with.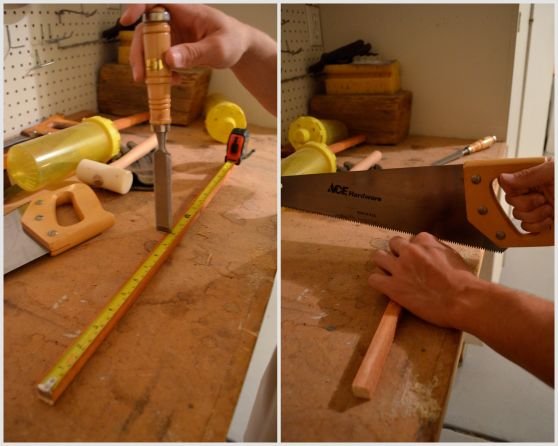 2. Next, I started measuring. The spokes on the mirror at the fair were all the same length and fairly short, but I decided I wanted to have a couple different, longer sizes. My husband helped me out and and cut 16 pieces of wood- 8 of them 10" and 8 of them 12".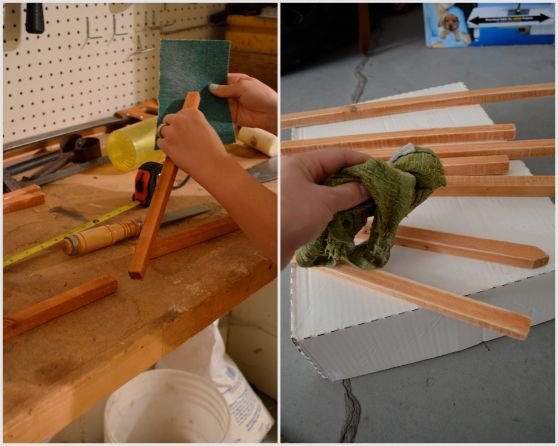 3. Once they were all cut, I sanded them down and cleaned off the sawdust with a wet rag.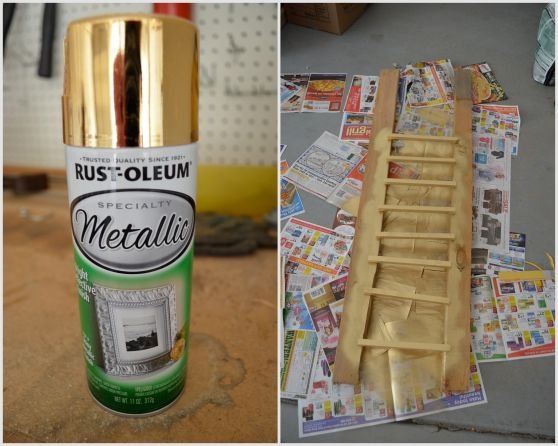 4. Next I brought out the gold spray paint! The spokes on the mirror at the fair were left natural, but I wanted mine to look a little more glamorous and glitzy.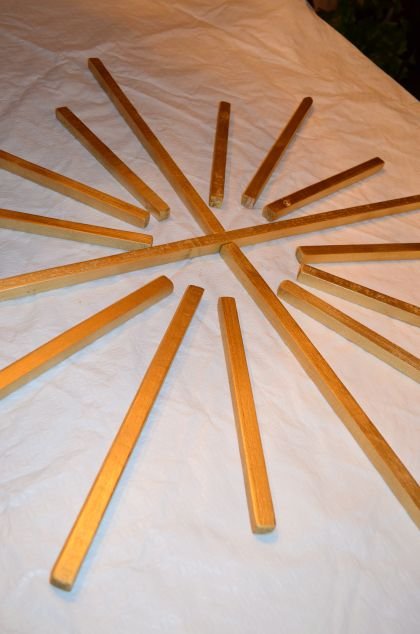 5. After the spokes got a couple good coats of paint it was time to put it all together! I went to a local glass store and bought an 8" round mirror for $15. I laid the mirror face down and started measuring out where to glue the spokes on the back with a framing square.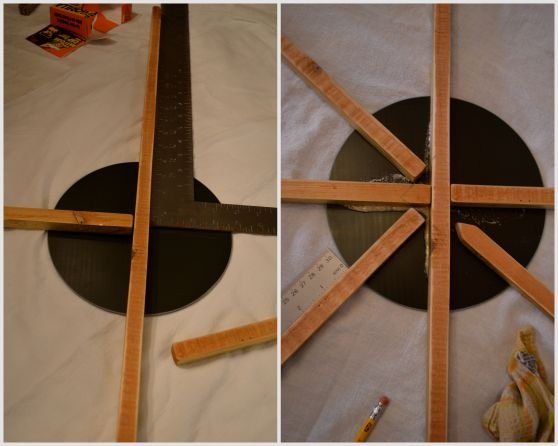 6. This is where it gets a little tricky. I got some gorilla glue, and glued down the first four 12" spokes, making four right angles, and four equal quadrants. (I made sure 2" of all of the spokes were glued to the mirror) Next, I glued four more 10" spokes (one in each quadrant), cutting each quadrant in half. Then I glued the remaining eight 8" spokes, cutting each quadrant into four equal parts. (Confused now? Basically, just figure out how you want to space out 16 spokes equally. They should go every other 12", 10", 12", 10")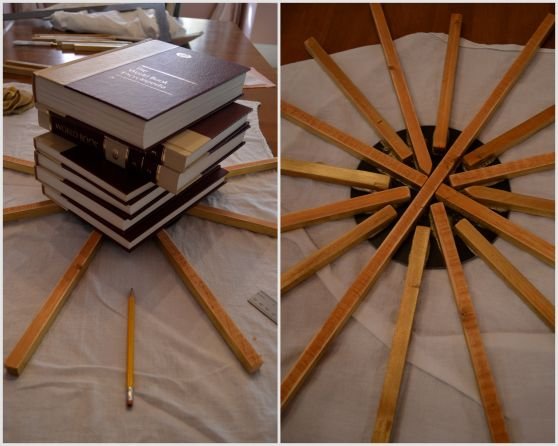 7. Once all of the spokes were glued on, I piled on some heavy books to add pressure so that the glue would dry evenly.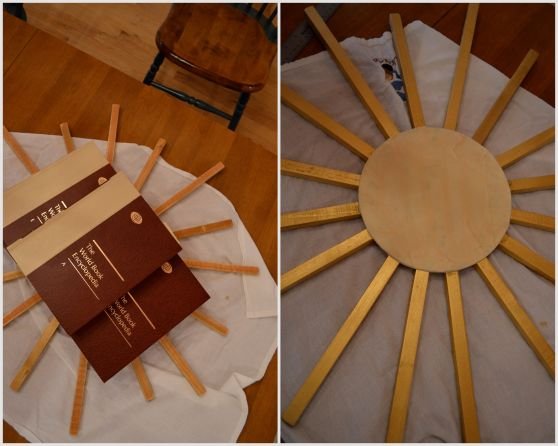 8. Once the glue was dry, I covered the front of the mirror with masking tape and sprayed another coat of gold spray paint on for good measure.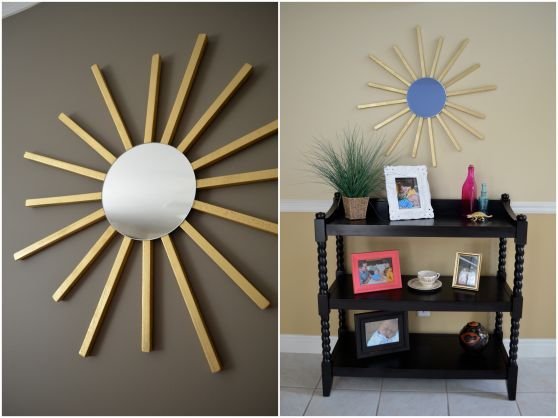 And voila! Here's the finished product!
What do you think?
P.S. If you're in the West Jordan, UT are tonight, I'm speaking at a Home and Garden club! Admission is free, so stop by if you can!
"Quality on Any Budget: How to Select the Best Home Furnishings"
Thursday, November 15th
7:00 pm
Conservation Garden Park Education Center
8275 South 1300 West
West Jordan, Utah
Popular Posts
Subscribe to the Room To Talk Blog
Subscribe to the Room To Talk Blog
Unsubscribe from the Room To Talk Blog