Posted by Andie on February 28, 2012
I can't even remember the number of times I've had to take my vacuum into the repair shop over the past 6 months. We get one thing fixed and then without fail another problem always arises. When you realize you have the repair shop's phone number memorized and you're chummy with the owner you know you have a serious problem.
I think vacuums are one of the most under-appreciated appliances out there. You don't begin to fathom just how much you need one until your vacuum is on the fritz and you have to walk around with socks on because you're so disgusted by the state of your carpet. Obviously I'm in the market for a new vacuum.
I understand that there are lots of great vacuums out there, but what I really want to save my pennies for is a Dyson. Sure, they tend to be more expensive than other brands, but from the research I've done and the many customer reviews I've read online I think they are definitely worth the price.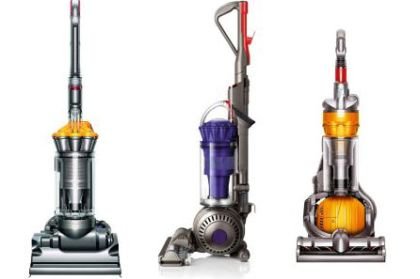 Here are some of the features people love about Dyson vacuums:
- Ball technology makes steering super easy
- Great maneuverability around furniture and hard to reach places
- Cyclonic separation removes dust and other particles from the air stream, allowing the vacuum to pick up MUCH more dirt than other vacuums
- Amazing suction power
- Super lightweight and easy to carry around
- Removable canister so that you can dump dirt anytime- no more vacuum bags to deal with
- Multiple settings- vacuums carpet, wood floors, tile, etc with just the touch of a button
- Great hose reach and attachments that are a breeze to use
- Picks up pet hair like a champ
It sounds more like a toy than a vacuum! RC Willey is running a great Dyson vacuum sale right now- buy any of our Dyson vacuums and you'll get 20% of your purchase back on an RC Willey gift card! If you're looking for a new vacuum anyway, now is the time to buy!
Are you happy with your vacuum, or do you want need a Dyson too?
Sort By Blog Topic:
Popular Posts
Subscribe to the Room To Talk Blog
Unsubscribe from the Room To Talk Blog