Posted by Andie on March 2, 2012
Home Invaders Aren't Always Human.
A few months ago, my husband and I traded in our tiny apartment in the city and moved into my grandparent's home to house sit for them for the next couple years. To say the extra space has been pleasant would be a huge understatement. We have a garage, a patio, a washer/dryer, a dishwasher, and most importantly a huge walk in closet! Oh the joy of modern day conveniences!
The other day I was working on my computer in the kitchen when all of a sudden I heard this loud banging/scratching sound that was coming from the front of the house. We live in a canyon, and so I was sure it was just a couple of deer on the porch. I curiously walked to the front door, only to find that the noise was coming from inside the house! It was only four o'clock in the afternoon, but it sounded like someone was trying to break in one of the upstairs windows!!
Chills ran down my spine, and I was completely paralyzed with fear. I had just finished working out, and still had my gym shoes on, but I could not move. My feet wouldn't budge. Meanwhile, the banging was getting louder and louder. After a few moments my fight or flight response kicked into gear and I ran to the kitchen, called my husband, and frantically explained that someone or something was in the house. He told me that it was probably just an animal outside, but that I should get in my car and drive to my parent's house if I was scared. I almost left, but suddenly I felt a responsibility to protect the place! A surge of bravery swept over me and I grabbed a stick, sure that I could fight off any intruders (this sounds so ridiculous now but in the moment I was extremely over-confident in my abilities).
For the next twenty minutes, I walked around the property looking for signs of a break in, stick in hand and ready to swing. I found absolutely nothing. My husband was still on the phone with me, but at this point he had to go back to work to take care of a patient and so I assured him I was fine and there was nothing to worry about. Surprisingly he bought it.
The truth is, I was still shaking in my boots. I went back inside the house, and with a healthy dose of courage, started walking through every room searching for the source of all of the commotion. I jumped about a foot in the air when I walked into the den and suddenly heard feverish scratching right above my head. Okay. I sighed in relief. It wasn't a human intruder, but I had a little critter on my hands.
At this point I pulled out the big guns and called my grandpa. He only lives a few miles away, and I thought I could use some more rational input (funny I called him once I realized it was an animal, but when I thought the intruder was human I was sure I could handle it on my own). He kindly came over a few minutes later, and after doing some inspecting he confirmed my suspicions.
We have a pet tree squirrel living in the ceiling and rafters of our entry way and den. Somehow he made his way through a little opening in the roof, and now he's living like a king. A very fat king, I suspect. I like to call him Freddy.
Here is a picture of him (or at least how I imagine him looking):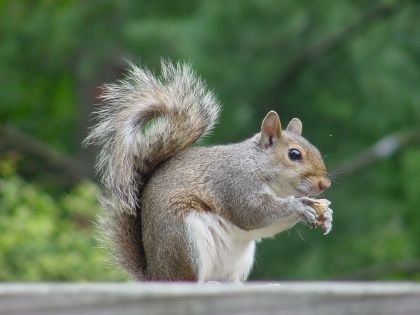 via pest control burlington
For the past three days he's been tormenting me relentlessly with his scratching. Ironically, my husband still hasn't heard him. It seems he likes to make noise only when I'm home alone.
Is it weird that I'm feeling bad about calling an exterminator? I mean, the thought of killing the guy seems so harsh, but then again my sanity is hanging in the balance here.
Any of you ever had to deal with foreign critters in your home??? Do share!
Sort By Blog Topic:
Popular Posts
Subscribe to the Room To Talk Blog
Subscribe to the Room To Talk Blog
Unsubscribe from the Room To Talk Blog