Posted by Andie on April 19, 2012
Ever since I was a little girl, birds have always freaked me out a little. This probably stems from an early childhood experience when a mean swan chased my 3 year old self around a duck pond and pecked at my cute red shoes. It was a terrifying experience for a little person. Clearly, I'm still not over it.
Seeing Alfred Hitchcock's The Birds in junior high probably didn't help either. It just solidified my inherent belief that all wild birds have it out for me. Just ask my husband and best friend about the army of devil seagulls that randomly attacked us last summer on a crowded beach, and then you'd be convinced too.
The point is, despite all of the horrible experiences I've had with wild birds over the years (believe me, there are plenty), for some reason now that I have a backyard I have this overwhelming desire to feed them! I know. It makes absolutely no sense, and I just hope that I'm not turning into the "bird lady" from Home Alone. SCARY.
We have a bird feeder full of bird seed hanging from one of the trees, but the other day I decided to make an extra special little treat for the birdies that frequent our backyard. (What is happening to me?) I couldn't believe how many "recipes" were out there- I had no idea so many people liked feeding birds.
Here's the recipe I ended up using. Apparently birds are supposed to love the stuff, but I'm not going to guarantee anything since I didn't taste it.....
Honey Banana Birdie Bites
Here's what you'll need:
2 Whole Bananas
1 Egg
1/4 cup Honey
3 tbsp. Banana Baby Food (* I used a pureed banana instead)
1/4 cup Millet, Oats, or chopped Almonds (I used oats)
1 tsp. Vegetable Oil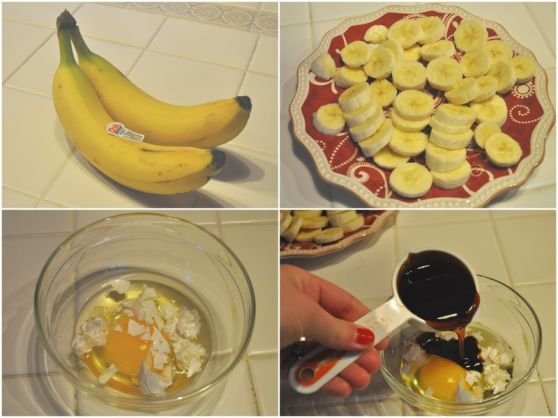 Start by pre-heating your oven to 300 degrees, and greasing a cookie sheet with a little oil. Slice the two bananas into discs and set aside. In a small bowl, mix one egg (you can leave the shell or take it out) and 1/4 cup honey.
Next, add 3 tablespoons of banana baby food (I didn't have baby food lying around so I used 3 Tbsp of pureed banana instead and it worked great). Stir mixture up (it's going to look pretty nasty). Take the little banana discs, dip them into the mixture, then place them on the greased cookie sheet.
Once the banana discs are all in place, cover with 1/4 cup oats (you can also use millet or chopped almonds), and throw them in the oven and bake them for 10 minutes.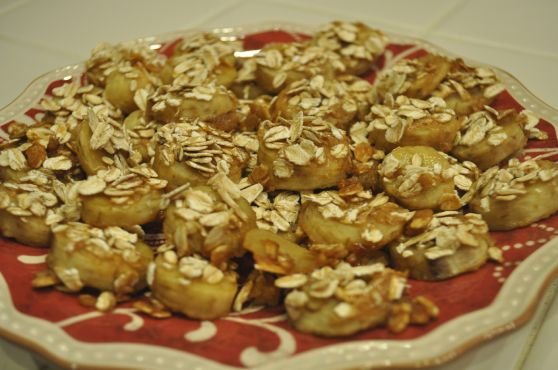 Here is the finished product. They actually look pretty gross, but I'm assuming birds like them? I put them out on a plate on our patio and several hours later a good portion of them were already gone.
Do you like feeding birds?
What recipes or seeds have you used?
Congratulations to this week's random patio furniture winner, Linda!

Linda, email me (andie@rcwilley.com) your information so that we can get you your new Mosaic Tile Bench! It's perfect for bird watching if you're into that kind of thing!
Popular Posts
Subscribe to the Room To Talk Blog
Subscribe to the Room To Talk Blog
Unsubscribe from the Room To Talk Blog