Posted by Alicen on July 30, 2012
Have you ever had to strip a room of wallpaper?
It isn't pretty. In fact, it can be extremely messy, especially if the wallpaper is stubborn and doesn't want to budge from the wall, which seems to happen the majority of the time.
Recently my husband and I re-did a bedroom in the house for our son's nursery. To start out, we decided to get rid of the floor to ceiling floral wallpaper that graced every single wall of the room. The project was a total beast. Whoever wallpapered 20 years ago must have used some amazing glue. Here she is in all her wallpapered glory before the project started.....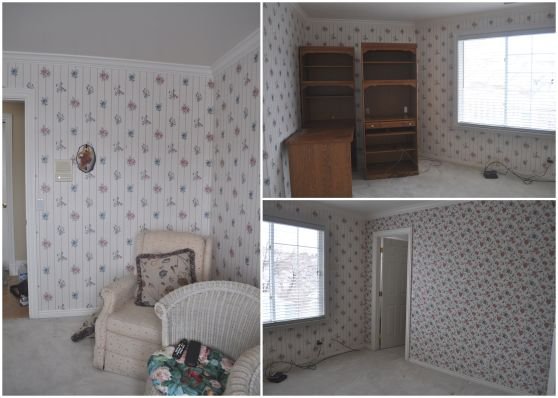 I learned that it's not worth buying all of the expensive gadgets, tools, and sprays from the home improvement store that will supposedly make completion of your project so much easier and faster. They won't. Save your money- you really don't need that much besides a few basics. Here's what you'll actually need:
1. Vinegar, Water & A Spray Bottle
Get a spray bottle, fill it up with hot water and about 1/2 of vinegar or so. Spray the walls down and let them soak for twenty minutes or so. The vinegar seems to really help soften up the wallpaper so it's easier to pull off. Keep spraying as needed. Vinegar will be your best friend.
2. Plastic Floor Covering
Protect your flooring! Tape down a plastic covering on your floor before starting. Wallpaper glue (and vinegar for that matter) can be nasty stuff, and you don't want it staining your carpet.
2. A Plastic Trowel
Chances are you're going to have some difficult spots and a lot of scraping will be involved. Pick up a plastic trowel for about .50 cents. Metal trowels are expensive, hard to use and it's easy to hurt yourself (or the wall) when using them. Plastic trowels are a dream and they get the job done nicely.
4. Fingernails.
Okay this sounds gross, but long fingernails are actually really helpful. Sometimes you need a little more man-power than the trowel when you are scraping, and long fingernails are the ticket. Just be prepared to clip them once you're finished because they'll probably look pretty weathered and jagged.
5. A Couple Old Rags
After you get the wallpaper all off, make sure you scrub down the walls SEVERAL times with an old wet rag before applying a paint of coat to the wall. You don't need any fancy sponges- an old, ratty rag works great! Often it takes a few wash downs before all of the wallpaper glue is actually off of the wall. (If you don't get all the glue off the wall you might have problems with paint down the road.)
6. Lotion
Your hands are going to kill afterwards. They'll probably feel like sand paper for a few days, so it's a wise idea to make sure you have some good lotion on hand.
What tried and true tips do you have when it comes to removing wallpaper?
Popular Posts
Subscribe to the Room To Talk Blog
Subscribe to the Room To Talk Blog
Unsubscribe from the Room To Talk Blog