Posted by Alicen on July 17, 2012
Paint trends come and go, and if you're like me, picking out the paint color is the very hardest part about re-decorating a room. Once you have the right paint color, it seems like everything falls into place, but until then... it's a nightmare.
Getting it right the first time is important. Recently we re-painted a room in our house that I thought was a pretty gray.... it ended up looking like lavender. And while I can appreciate the color lavender, I didn't want it on the walls of my little boy's nursery.
Here's my advice when it comes to getting it right the first time:
1. Turn to the Experts
Go to an actual paint store. As helpful as other places can be, it's just not the same as going to people who work with paint and paint professionally every single day. Nothing beats it. Personally, I love Benjamin Moore Paints, but there are other great paint stores out there as well.
2. Sample Multiple Paint Colors
If you're like me, once you decide to paint a room, you're anxious to get it done! Don't make a rash decision though because chances are you'll get it wrong. Picking the perfect paint takes patience, and time. Purchase a handful of samples you think could work, and paint a square of each sample on every wall of the room you'll be painting. Then check out the colors during the day- different lighting can make a color look completely different on your wall than it did at the store. Do your homework!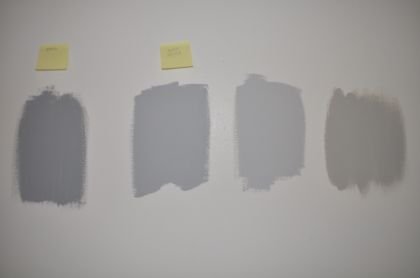 3. Don't Skimp on the Taping Job
Taping is probably the most painstaking, yet important step when painting a room. Don't get sloppy- take the time necessary to make sure your tape job is perfect- that way you won't have to clean up mistakes later on. Remember, patience is a virtue!
4. Two Coats of Paint is a Must
Two coats of paint is better than one for a multitude of reasons. You get better durability and coverage, full solid colors, and you won't have to re-paint for twice as long! It also helps to avoid missing spots or having other colors bleed through. Don't stop at one!
5. Love the Color You Pick
Unless you like re-painting every year, don't do anything too trendy or crazy, because chances are it will be 'out' soon. Make sure you pick a paint color that you'll be happy with for a long time.
As for right now, subtle, subdued colors for the walls are totally hot- think grays, browns, sage greens, creams, etc. Go with a color that is rich and warm.
Sort By Blog Topic:
Popular Posts
Subscribe to the Room To Talk Blog
Subscribe to the Room To Talk Blog
Unsubscribe from the Room To Talk Blog