Posted by Andie on August 2, 2012
Today our Design Your Way Guest Post is by Stacie Rasmussen. Stacie is the queen of cleanliness and organization, and is a new elementary school teacher to a class of lucky 5th graders. Stacie also happens to be my little sister, so naturally she's one of my favorite people in the whole world. Thanks Stace!

What makes your home, your way?
As a newlywed of just under a year, we are pinching pennies in whatever areas we can find. In addition to being poor college students, we are renting a modest apartment for the time being.

Because of the penny pinching and temporary home that we are essentially borrowing with a fee, I don't have the liberty to make "my home, my way" by imitating the great pictures found on this and other design blogs and websites. Instead, I've had to make my home, my way by being resourceful.

I first realized that our cream colored couch cover was melting into our cream colored walls. We desperately needed to add a splash of color. I headed over to the local fabric store and $80 and 3 hours later, ten drab pillows had been transformed into a bright and inviting look.

We also wanted some artwork to put above our couch. We bought three 2x2 wood planks, some fun turquoise paint and drew our own design onto the wood by tracing cans and connecting the dots with basic lines.

Our simple apartment that isn't really ours, is now our home, our way.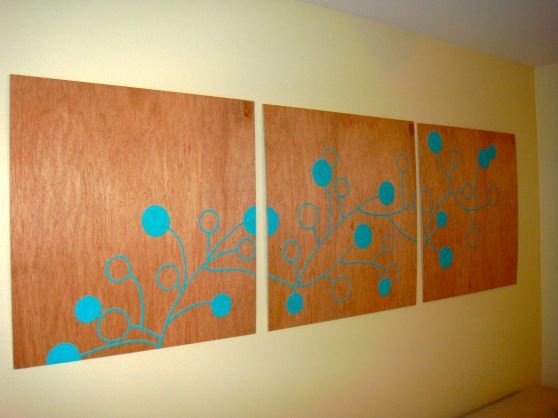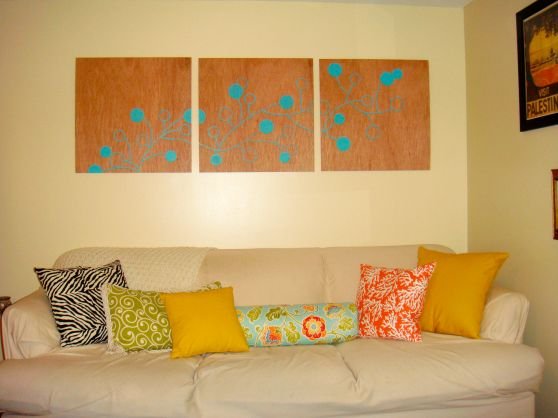 Sort By Blog Topic:
Popular Posts
Subscribe to the Room To Talk Blog
Subscribe to the Room To Talk Blog
Unsubscribe from the Room To Talk Blog