Posted by Andie on September 21, 2012
Recently some close friends moved to a new apartment and wanted some help decorating the living room, which sat just off the kitchen. It was a beautiful, brand new space, complete with granite countertops, big windows, and high ceilings. The only problem? It was too dark. All of the walls were painted beige, the wood floors were dark brown, the carpet was beige and the kitchen cabinets were black. On top of that, my friends brought with them a plethora of dark furniture.
The solution was simple. The place needed a good dose of color! While they didn't want to go out and buy new furniture (their stuff was already new anyway) or re-paint the walls, we settled on a few minor changes to help liven the room up. Here's what we decided to incorporate, and what you can add to your space to freshen it up with color:
1. An Area Rug
There is nothing like a big vibrant area rug to help wake up a sleepy, dreary room. It's absolutely amazing how fast a little bit of color on the floor can transform a space. Selecting a rug is a great starting point, because it can help give you a sense of direction for your color scheme. Pick out a rug that has a lot of bright colors and it'll be easy to pull out several hues and bring them into the rest of the decor.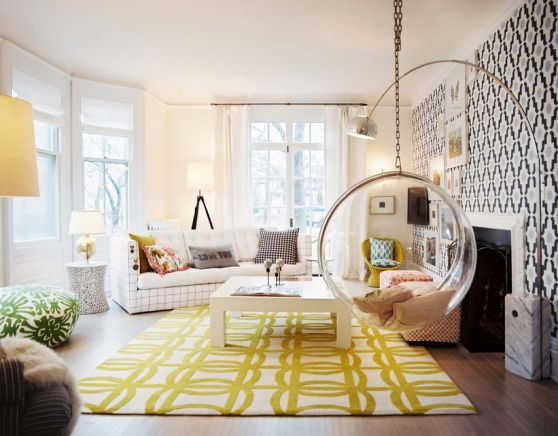 via lonny mag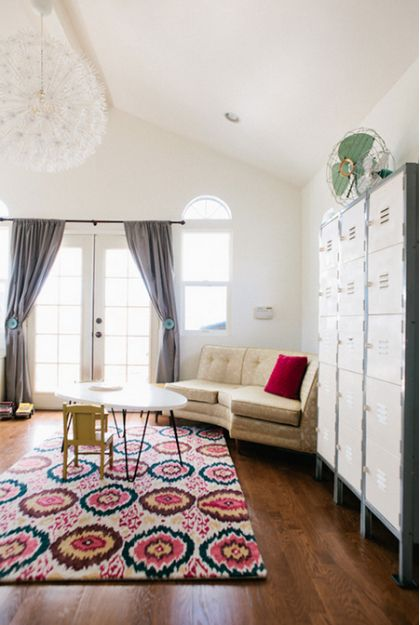 via design sponge
2. Artwork
Artwork is so essential, especially when you have high ceilings you are working with. The key to having great art on your walls is realizing that it takes a while. Artwork shouldn't be bought all at once, rather, collected over time. I think a mix of family photos with original artwork or prints, mirrors, and other random objects hung up provides an interesting, yet personal wall canvas. Walls tell a story about the people that live in the space, so make sure your walls paint an accurate picture of who you are for visitors.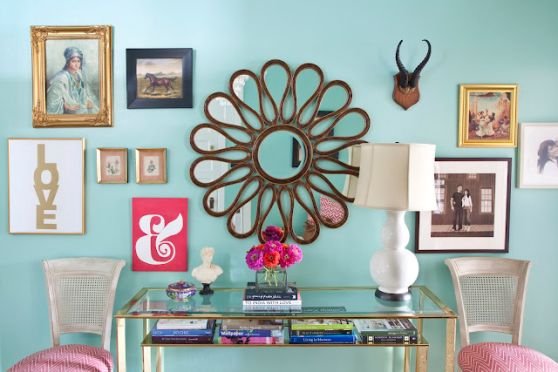 courtney apple photography via caitlin wilson design
3. Books
When you're sitting in someone's living room, one of the first things you do is thumb through the books lying on the coffee table. Books are awesome accessories because they're great conversation starters, yet functional at the same time. They can also be beautiful too (ie: the re-covered Penguin classic novels below). If you have old books sitting on a shelf that aren't so beautiful, try covering them with wrapping paper or wallpaper to give them a facelift. Your bookshelves will look so pretty!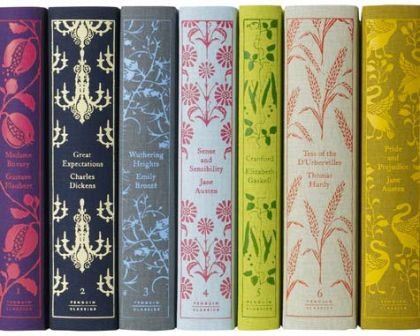 4. Random Colorful Objects
This is where you can start thinking out of the box! While artwork, picture frames and books are important, it's fun to have some cool random objects in your space. We found some amazing colored glass bottles, funky vases, and a huge bright blue glass pitcher for my friend's apartment. The more random, the better. My mom has one of my great grandmother's old frying pans displayed on a book shelf and it looks incredible! Don't discount anything, because chances are it will probably work! The more unique and personal, the better.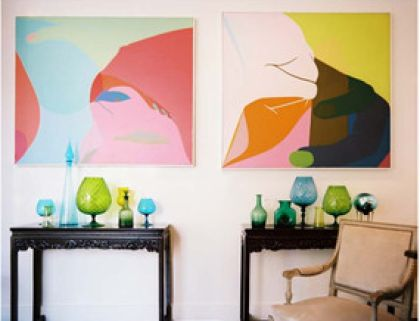 via lonny mag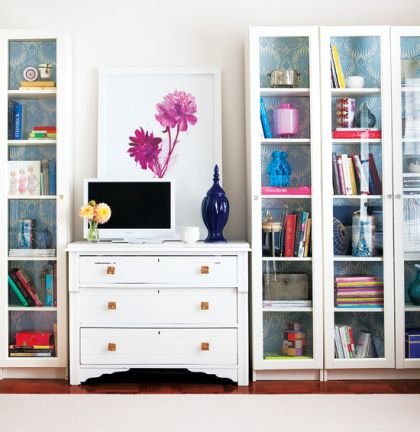 via decorpad
5. Throw Pillows
I've said this so many times, but changing out your pillows is one of the easiest way to spice up your room and play with a different color scheme. If you can't find what you're looking for at a store, make your own! There are so many pretty fabrics available these days, and if you can sew four straight lines you are definitely capable of hammering out a handful of pillows in a few hours.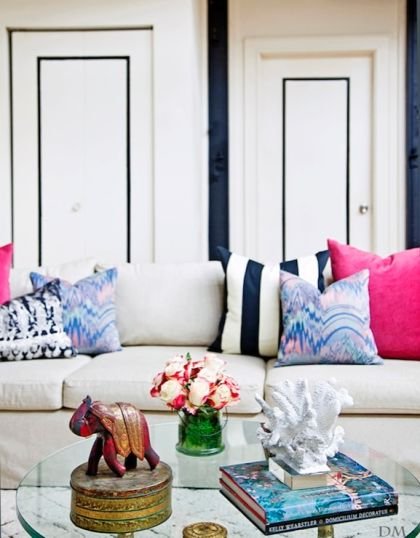 via decorpad
6. Curtains
Sometimes people shy away from curtains and opt for traditional blinds or window coverings instead. But if you're wanting to go bold and make a big statement with color, you have to go with curtains! You don't have a choice! Again, a very simple addition to a room that will make a huge difference!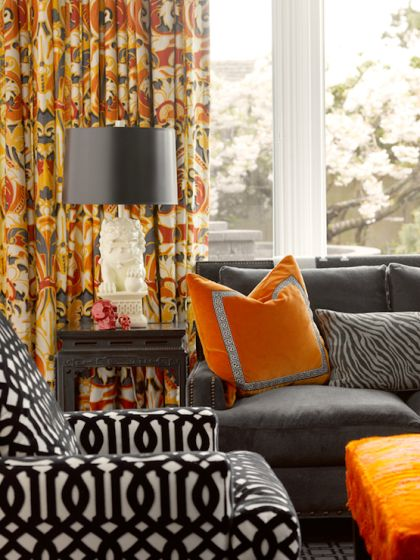 Graciela Rutkowski Interiors via decorpad
7. Fresh Flowers
Fresh flowers and plants make everything happier, and they are a great way to bring a variety of vivacious colors into your home on a regular basis! They don't have to be expensive either. Simply buy a little bouquet when you're at the grocery store every week, or pick a few daisies from your backyard and put them in a little vase on a coffee table.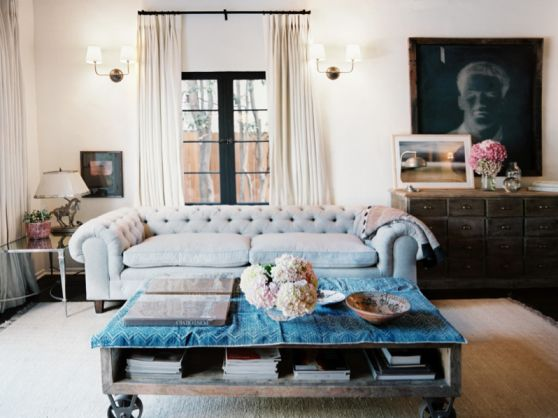 via lonny mag
Happy decorating!
Sort By Blog Topic:
Popular Posts
Subscribe to the Room To Talk Blog
Subscribe to the Room To Talk Blog
Unsubscribe from the Room To Talk Blog