Posted by Andie on September 14, 2012
This is what the trunk of my car looked like last weekend.
To say I love tomatoes, well, that would obviously be quite the understatement. My mom and I went to a local farm and picked all of these beauties off the vine ourselves. After canning 94 bottles of our homemade salsa, and eating fresh tomato sandwiches on a daily basis, yesterday I went back to the farm for more! I've been craving gazpacho and decided I'd better whip some up before I can't find fresh tomatoes anymore!
Have you ever tried gazpacho? It's a spanish-style tomato based vegetable soup that is served chilled. Oh my gosh it's AMAZING. Such a healthy, delicious treat with an explosion of incredible flavors! If you like tomatoes, you'll love this stuff! It's the perfect dish for a dinner party, or you can keep it all for yourself and snack on it for weeks!
So, if you have tomatoes lying around, make some gazpacho this weekend!
Gazpacho
from the Barefoot Contessa Cookbook
2 hothouse cucumbers, halved and seeded, but not peeled
3 red bell peppers, cored and seeded
8 plum tomatoes
2 red onions
6 garlic cloves, minced
46 ounces tomato juice (6 cups)
1/2 cup white wine vinegar
1/2 cup good olive oil
1 tablespoon kosher salt
1 1/2 tablespoons freshly ground pepper
Directions:
Roughly chop the cucumbers, bell peppers, tomatoes and red onions into 1 inch cubes. (Woopsy- I forgot to add the red onions until later, but do it right now!)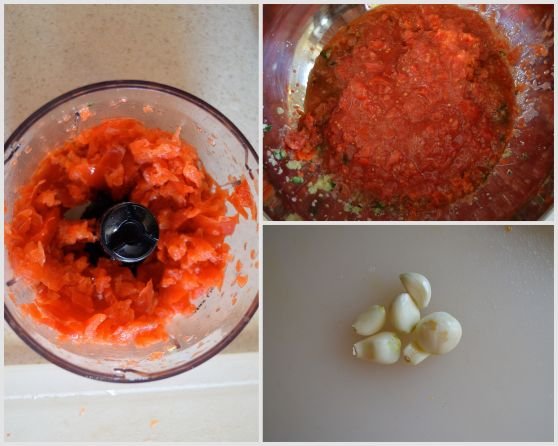 Put each vegetable separately into a food processor fitted with a steel blade and pulse until it is coarsely chopped. Do not over-process. After each vegetable is processed, combine them in a large bowl and add the garlic.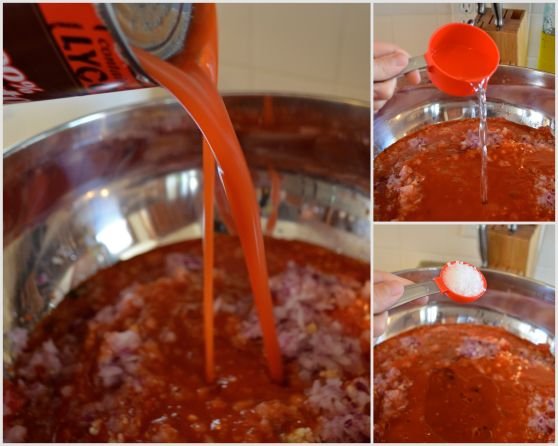 Next, add the tomato juice, vinegar, olive oil, and salt and pepper.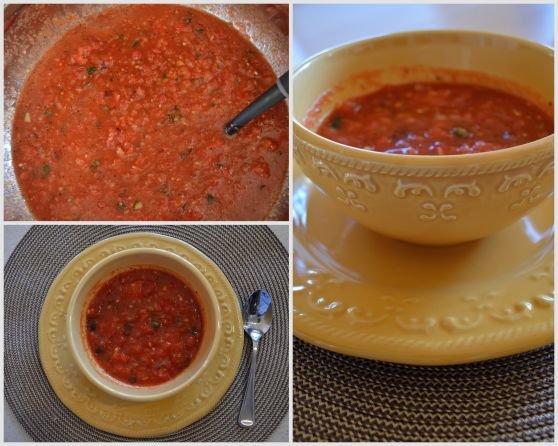 YUMMY!! While this might look disgusting to some of you, I promise it's delicious! Mix everything together well, and chill before serving. Remember, the longer the gazpacho sits, the more the flavors develop!
Hope you like it as much as I do!! Have a great weekend!
Popular Posts
Subscribe to the Room To Talk Blog
Subscribe to the Room To Talk Blog
Unsubscribe from the Room To Talk Blog