Posted by Andie on February 12, 2013
It just wouldn't be right not to have sugar cookies on Valentine's day. Here's the thing though- sugar cookies are complicated. I've tried several recipes over the years, and it takes a lot to impress me. It's difficult to achieve the perfect balance between crisp and chewy, and don't even get me started on the frosting...
Recently I went to a sugar cookie baking class at one of my favorite local bakeries. I learned a few things that helped make all the difference in my sugar cookies this year....
1. Use a mixture of butter and margarine instead of just butter. That way, your cookies won't be too flat, heavy, or greasy on the bottom.
2. Cake flour is way more forgiving than normal flour. Use it! Your cookies will be fluffier. (I had typically just used cake flour for cakes in the past, but I couldn't believe the difference it made in my cookies.)
3. Turn down the oven. Bake at 335 degrees instead of 350. (If you are using convection, turn your oven down even more.)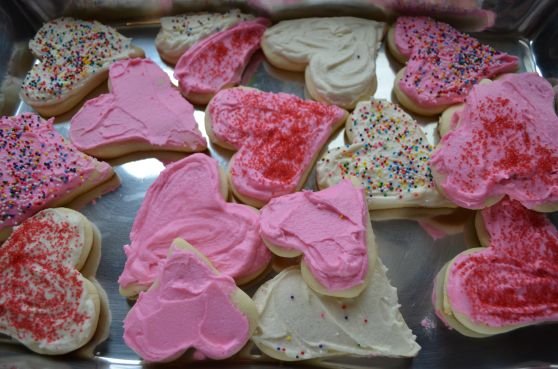 And now, my friends, here is the recipe. So do yourself, and your family a favor this V-day and make a batch of sugar cookies!
Cutler's Famous Sugar Cookies with Butter Cream Frosting
Cutler's Cookies, Bountiful Utah
1.5 cups butter (use 1 cup butter, 1/2 cup smart balance margarine)
2 cups sugar
3 eggs
2 teaspoons vanilla
1/2 teaspoon salt
5 cups cake flour
Cream butter and sugar. Add eggs and vanilla and mix until blended well. Add dry ingredients and mix. To make dough easier to work with, chill before rolling.
Roll and form cookies and bake at 335 degrees for 10-12 minutes. Cookies are done when top is slightly cracked and no longer looks wet. Edges may be slightly browned.
Butter Cream Frosting
1 cup butter (use 1/2 cup butter and 1/2 cup smart balance margarine)
4-5 cups powdered sugar
milk
1 teaspoon vanilla
Beat soft butter and powdered sugar together until smooth. Add a splash of milk and vanilla, blend well. Tint frosting with food color as desired. Decorate with sprinkles immediately after frosting.
ENJOY!!
What are some of your tricks when it comes to making sugar cookies??
Popular Posts
Subscribe to the Room To Talk Blog
Subscribe to the Room To Talk Blog
Unsubscribe from the Room To Talk Blog