Posted by Andie on January 28, 2014
January means 3 things to me:
1. It's freezing!  When will it be spring?
2. I Hope I don't fail my New Year's Resolutions.
3. Time to deep clean and de-junk my home.
I don't know if it's the whole idea of starting over in a brand new year, or if after putting away all of my Christmas decorations I'm simply ready to simplify my life- but either way, January tends to be the month that I go through every closet, nook and cranny and get rid of the stuff we've accumulated over the past year that we don't want/need taking up space.  As much as I dislike the month of January (no offense anyone), it is actually pretty refreshing to get things organized!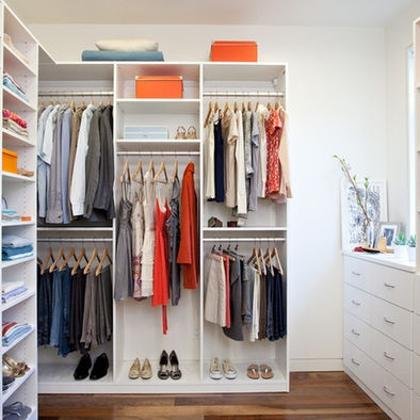 houzz via pinterest
If you're like me, going through your closet is the hardest part.  It's completely overwhelming, especially when you have attachment issues like I do to clothing & shoes!  So, here are 6 tips to help make going through your closet a successful project--
1. Get a friend or family member to act as a "voice of reason"- this person can't have emotional attachments to anything in your closet or it will backfire!
2. If you haven't worn it in more than a year, toss it. (Unless it's your wedding dress)
3. If it doesn't fit, toss it.  Don't hold on to clothes that are too big (duh)- and if you have to hang on to a pair of "skinny" jeans to help you with your weight loss goals for the year, just keep one or two pairs.  No use in wasting space holding onto something you can't even wear.
4. If you wouldn't buy it at the store right now, toss it.  
5. If it's out of style, toss it.
6. Get rid of something in your closet every time you buy something new!  That way it your closet will never get overpacked.  
Sort By Blog Topic:
Popular Posts
Subscribe to the Room To Talk Blog
Subscribe to the Room To Talk Blog
Unsubscribe from the Room To Talk Blog