It's happened to all of us. You attend a dinner party where you can barely squeeze into your chair because you're basically sitting on top of the person next to you (which results in you being afraid you might accidentally stab your neighbor if you aren't careful enough when cutting your steak).
You sit down on someone's sofa, only to realize that there isn't enough room for your feet between the coffee table and the edge of the sofa.
You have to suck in with all of your might to create enough clearance to actually close and lock your friend's bathroom door.
These types of situations can be awkward, and uncomfortable to say the least. Anthropometrics, or the dimensions of the human form, are important to consider when arranging furniture and spaces in your home. Just because something will "fit" doesn't mean that it will be condusive to comfortably entertaining people in the room!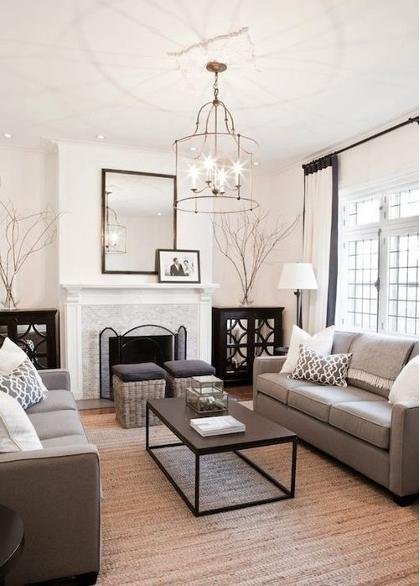 via houzz


According to "Interiors: An Introduction" there are some standard clearances in The United States (based largely on our culture's personal space preferences) that you should be aware of when considering where and how to place and arrange furniture in your home:
- Major traffic paths should be 3 feet or wider.
- Minimal clearance for traffic is 1.5 feet.
- Seating pieces used with coffee table need slightly over 1 foot of clearance between the table and the front of the seat.
- For a user to be able to extend his or her legs in front of a seating piece, about 3 feet of space is required, depending on leg length and the degree of extension.
- Desks and pianos require a minimum of 3 feet of clearance for chairs, benches, and users.
- Comfortable dining requires slightly more than 2 feet of space per user along the perimeter of the table.
- In order to accommodate a seated diner and space behind for passage and serving, 3 feet of space should be planned.
- Three feet is considered good clearance between a bed and dresser.
- Space between two beds should be from 2.5 feet to 3 feet.
- Minimal clearance to facilitate bed making is 1.5 feet between the bed and the wall.
- In a bathroom, clearance of 2.5 to 3.5 feet in front of the toilet provides adequate space for most functions.
These rules of thumb are great to have in your back pocket to help you in the future!
Sort By Blog Topic:
Popular Posts
Subscribe to the Room To Talk Blog
Unsubscribe from the Room To Talk Blog