Posted by Andie on August 19, 2014
I LOVE homemade bread. Like, really really love homemade bread. No matter how close to the real deal some store bought bread might be, it just doesn't even come close to the deliciousness of homemade bread. There's nothing like a fresh from the oven slice of warm bread slathered in copious amounts of butter. Get in my belly.
The term "homemade bread" can be scary for some. It's territory that people are hesitant to even venture into. I mean, you make a loaf of homemade bread and suddenly the general population thinks you're a domestic goddess! Case in point: The other night I hosted a dinner party with a bunch of girlfriends and I made this sourdough bread recipe I'm about to share with you. Everyone was ohhhhhhing and ahhhhhing over it. When I told them it was super easy one of my friends piped up, "Oh I don't do homemade bread. There's no way I could ever make it." Ummmm if you can do basic math and have flour, water, yeast & salt at your house I'm pretty sure you can make this bread! (Seriously, your kindgergartener could probably whip this up no problem.) And did I mention it's absolutely DELICIOUS?? Enjoy!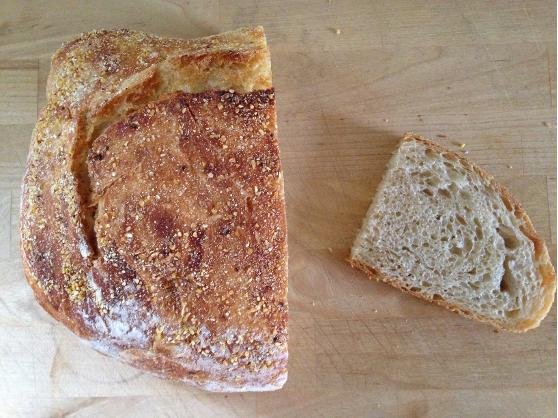 Amazing no-knead Sourdough
from the Keeping Up Cookbook
This easy method for making crusty, artisan sourdough bread might just change your life (and possibly your waistline). The texture is best with bread flour, but it works just as beautifully with all-purpose flour.
You will need a large, lidded, oven-proof pot or dutch oven. Measure the bottom of your pot to determine which size loaf to make (doesn't have to be exact).
8" round loaf
3 cups bread flour
1.5 cups water
2 teaspoons salt
1/4 teaspoon active dry yeast
cornmeal
10" round loaf
4 cups bread flour
2 cups water
1 tablespoon salt
1/2 teaspoon active dry yeast
cornmeal
In a large bowl, stir together ingredients until well combined. If there is leftover flour in the bowl after mixing, add water by the 1/4 teaspoon until all flour has been incorporated. Cover bowl with plastic wrap and allow to sit on your counter for 18 hours (plus or minus a few hours is fine). Dough will spread, rise slightly and be bubbly on top.
Lay a clean, cotton dishtowel on your counter (not terry cloth). Sprinkle it generously with cornmeal. Sprinkle a separate surface generously with flour. Using a rubber spatula, scoop dough onto floured surface. Dough will be very sticky, so use your spatula to "roll" the dough around until lightly covered in flour. With floured hands, shape dough into a loose ball by pushing edges away from you and pinching them together on the backside of the dough. Place dough, seam-side down, in center of cornmeal covered towel. Generously sprinkle entire surface of dough with the cornmeal. Fold towel over the dough and let rise 2 to 3 hours.
When ready to bake, place lidded pot in the oven and turn oven to 450 degrees. LEt preheat for at least 20 minutes. Transfer dough to preheated pot by sliding one hand under the towel and dumping dough into pot (now it will be seam-side up). Give pot a quick shake to even out dough, but don't worry if it isn't centered. Quickly replace lid and return pot to oven. Reduce heat to 400 degrees.
Bake covered for 20 minutes. Remove lid, then bake an additional 20 to 30 minutes, or until bread is nicely browned on the top. Immediately dump bread onto a cooling rack and let stand 15 minutes before slicing.
Popular Posts
Subscribe to the Room To Talk Blog
Subscribe to the Room To Talk Blog
Unsubscribe from the Room To Talk Blog