Posted by Andie on October 8, 2015

Today I want to share with you all one of my very favorite halloween traditions that started way back when I was a kid. Growing up, every year at halloween my mom would paint a huge haunted house mural on the big bay window in our kitchen that overlooked our backyard. And every year it was absolutely amazing! I can't tell you how much I looked forward to it every October. I still remember sitting and watching her paint, thinking that I had the very coolest mom ever (I still do).
I loved it so much, and I love the fact that my mom flew back to D.C. a couple weekends ago, and together we painted a haunted house mural on my window for my own little family. The tradition lives on! It's fun, it's easy, and your kids will die over it. And no, you don't have to be a talented artist to do it! Here's what you'll need to create your very own haunted halloween mural....
- acrylic paints (you can find them for .79 cents a piece at Michaels)
- lots of foam paint brushes (many different sizes work best)
- a dry erase marker
- a large window in your home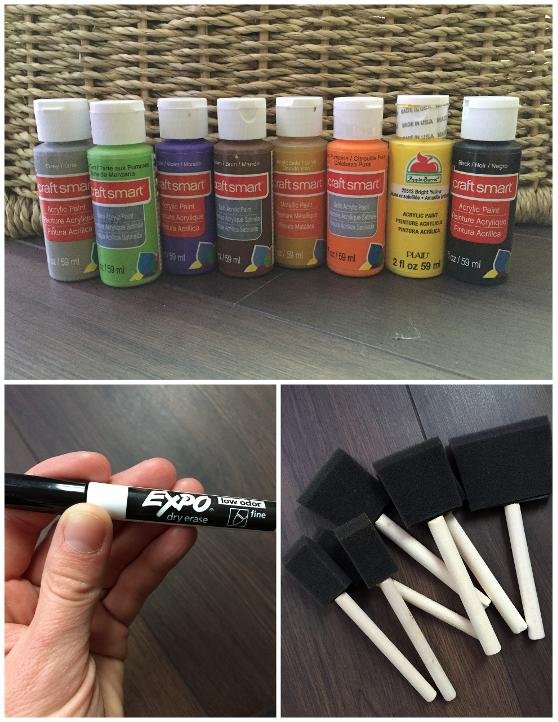 Now, for the fun part!
1. If you're an artist, you can just go for it, but we wanted to go off of something. We did a google image search of "haunted houses" (you could also do graveyards, witches, pumpkins, etc) and found our inspiration...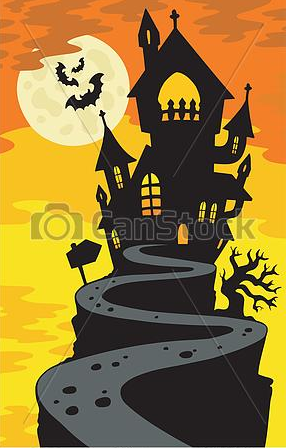 via canstockphoto
2. After we found the photo we wanted to work off of, my mom got a dry erase marker and drew our outline on the window (she's a pretty good free hand artist). Obviously we made a few changes, but it was nice to have a starting point.
3. Once our haunted house was drawn on the window (I forgot to take a picture- sorry!) we started painting. It took at least 2-3 coats of every color before we achieved our desired effect. (Make sure you let each coat dry thoroughly before you start on a new coat.) Also, we found that after the first layer, instead of brushing on the paint we had to basically blot it on with our sponge brushes (hence the cool textures you see here) or else the paint layers underneath started peeling off. We also decided to leave a bit of an edge around everything for light to shine through.
4. Once the colors were as dark as we wanted them to be, we outlined everything in black paint and called it good! I couldn't be more thrilled with how it turned out!!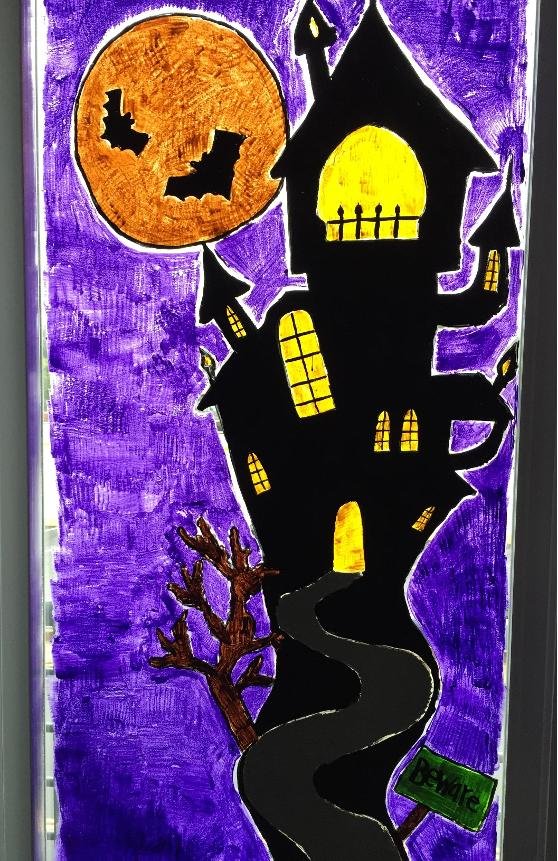 Isn't it fun?! The best part is that we have a haunted halloween mural on the inside, and also from the outside!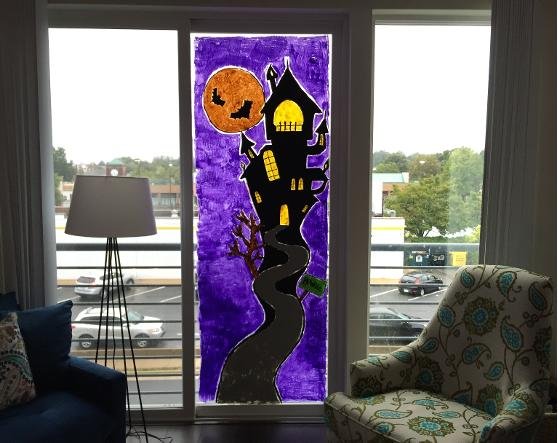 Now, go paint your own halloween mural!!
P.S. I should probably include how to get the mural off your window after halloween is over! Simply scrape with a plastic spatula, paper towels, water, and windex and your window will be good as new again:)
Popular Posts
Subscribe to the Room To Talk Blog
Subscribe to the Room To Talk Blog
Unsubscribe from the Room To Talk Blog