Posted by Kerry on October 5, 2015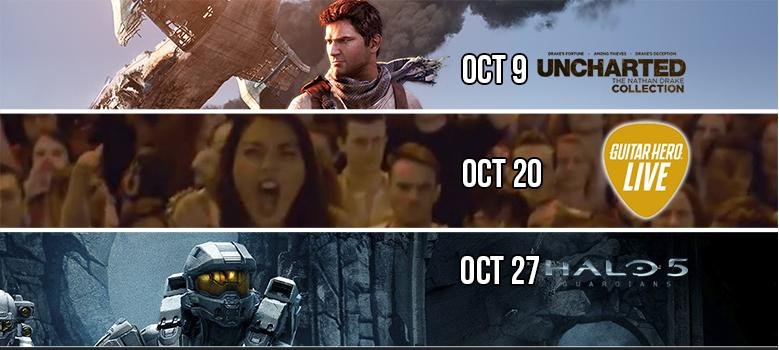 It's video game release season and there are a ton of awesome games coming out this Fall at RC Willey. Let's take a look at 3 games that arrive this month!
1. Uncharted: The Nathan Drake Collection
It's hard to believe this franchise is 8 years old. Since some games are just too good to leave in the past, publisher Naughty Dog has remastered all 3 Uncharted games so they look brilliant on the PS4. The Uncharted: Nathan Drake Collection comes with Uncharted: Drake's Fortune, Uncharted 2: Amoung Thieves and Uncharted 3: Drake's Deception.
2. Guitar Hero Live - 2 Guitar Bundle Pack
Guitar Hero is one of those rare games that really is enjoyable for the whole family. It has great music and is easy enough for most people to pick up and play right from the start. The guitars have been redesigned and look very cool and now you play in from of a human audience! That's right, no more cartoon characters booing you - there are real faces staring back at you pleading for you to not screw up. On top of that, Guitar Hero Live will allow you to play along with your favorite music videos giving your friends something to watch while you shred.
3. Halo 5: Guardians
If you own an XBOX you will be buying this game. Halo is an awesome futuristic first person shooter game and is only available on the XBOX One console. The world's productivity will drop the day after this game comes out. Expect lots of people to call in sick and very little traffic on the roads. This is a big deal.
Sort By Blog Topic:
Popular Posts
Subscribe to the Room To Talk Blog
Subscribe to the Room To Talk Blog
Unsubscribe from the Room To Talk Blog