Posted by Andie on November 24, 2015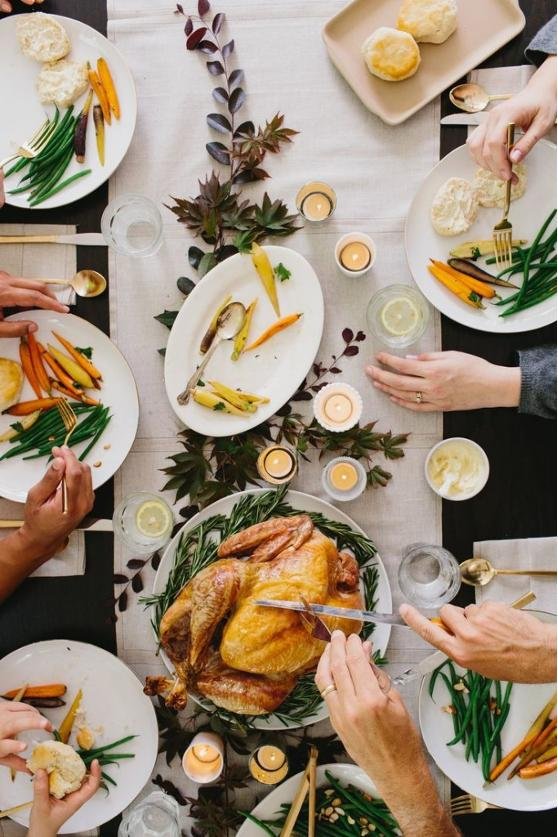 Most Americans will be gathered around the dinner table with family, friends & loved ones eating all of the Thanksgiving fixings this week- turkey, mashed potatoes, stuffing, green bean casserole, sweet potatoes, and apple pie. What a wonderful holiday!! If you're planning on hosting Thanksgiving, or simply showing up as a guest this year, read on for some helpful Thanksgiving etiquette do's and dont's that are sure to make the big day go smoothly.....
FOR THE HOSTS:
DO'S:
- Make hand-written place cards and have them on the table in advance. If your great aunt Rita and cousin Jimmy fight like cats and dogs about politics, don't seat them near each other! It's always easy and less awkward for guests when their seats are chosen for them in advance.
-Use real dishes! This includes plates, glasses, and silverware. I am pretty passionate about this one. And don't argue that paper is so much easier, because easier does not equal better! People, this is what the china sitting in your china hutch is for! If you don't use it on Thanksgiving, what are you saving it for?
-Use real cloth napkins. Again, I might be anal, but a good cloth napkin blows a paper napkin out of the water and really dresses up a place setting.
-Assign people dishes to bring. Don't try to be a super hero and do the whole meal by yourself. In my experience, people are always happy and eager to help. -Start on time. If you tell guests to arrive at 2:00, make sure dinner is ready to go at 2:00, not 4:30.


DON'TS:

-Have centerpieces so tall on your tables that guests have a hard time seeing each other. Remember, decor is good, but don't get too carried away.
-Stick a lone adult on the kid table. Be thoughtful and courteous when assigning seats.
-Ask someone else to cook the turkey. Transporting a fully cooked bird in your car is never a good idea (hello turkey juice all over). When you offered to host thanksgiving, you signed up for turkey duty.
-Apologize for your cooking. Julia Child had a rule that she never apologized to her guests if she thought something tasted unsatisfactory because it only made a bad situation worse. Be a gracious host, and keep it to yourself if you missed a few ingredients in the stuffing:)
-Expect every dish to be perfect. If you are assigning out dishes, you have to be okay with the fact that you are losing some control. Your sister-in-law Linda's green bean casserole might not be as tasty as yours, but who cares? At least she helped!
-Eat with the TV on. There will be plenty of time for football later. Turn it off for an hour so that you can have a nice, peaceful meal with those you love.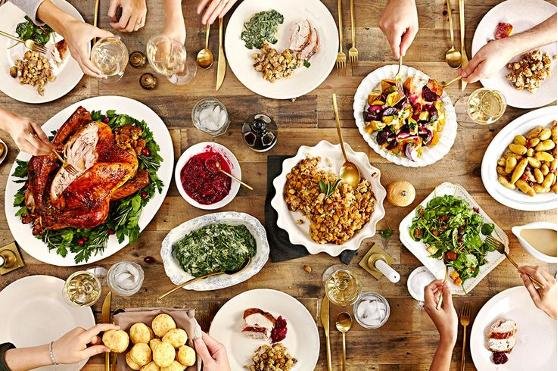 FOR THE GUESTS:
DO'S:

-Arrive on time. If dinner is at 1:30, don't mosy in at 2:00 and act like you were on time. If you've ever hosted Thanksgiving dinner you know it's a ton of work-- the least you can do as a guest is to show up promptly.
-Bring a small gift to the hostess. Something simple like a little succulent or pack of note cards, with a 'thank you for hosting' card goes a long way.
-Offer to bring a dish. Just because you aren't hosting doesn't mean this is a 'free meal'! Ask your host 'what else can I bring' after they've assigned you something and do your part to help make it a smooth meal for everyone.
-Help clean up the kitchen after the meal. This is possibly the MOST IMPORTANT rule as a guest! Don't think that since you weren't in charge you can sit around and watch your host do all the dishes after dinner is over. Get up and help! This is the best way you can thank your hosts for a lovely day.


DON'TS:

-Talk about all the food on the table you don't like. If you aren't a fan of something, or your grandma's rolls are way better than the ones you are eating, be polite and keep your mouth shut. Remember, if you don't have anything nice to say, don't say it at all.
-Decide to change your dish assignment without consulting the host well in advance. When your host assigns you a dish to bring, make sure you follow instructions. Don't show up with vanilla ice cream if you were asked to bring an apple pie and throw out the excuse "I forgot what you told me to bring" or "I ran out of time to make a pie!".
-Show up with uninvited/unmentioned children, significant others, etc. This is just inconsiderate and rude. At the very least, if you are bound and determined to bring an uninvited friend, check with your host well in advance to see if there is room for them.
-Forget about your parenting responsibilities. It is not the hosts' job to parent your children. Make sure they are respectful to the rules of the home.
-Overstay your welcome. Enjoy the day with family and friends, but don't make your hosts entertain you longer than they want to.


What else did I miss? Any Thanksgiving rules you and your family abide by that helps make it a drama-free celebration?
Popular Posts
Subscribe to the Room To Talk Blog
Subscribe to the Room To Talk Blog
Unsubscribe from the Room To Talk Blog