Posted by Andie on November 13, 2015

With Thanksgiving coming up in a couple weeks, we have been focusing on what it means to be grateful at our house. I have a three year old, and an 18 month old, and if being a parent has taught me anything, it's that lots of things don't exactly come naturally for children. I guess it's no surprise that parenthood is a lot of hard work! Take for example, the idea of gratitude. Kids are naturally focused on themselves, and they aren't wired to understand what it means to be grateful on their own. Life coach Mary Jane Ryan said "No one is born grateful. Recognizing that someone has gone out of the way for you is not a natural behavior for children-- it's learned."
If gratitude is a learned behavior, I feel as a parent I have some responsibility to help my kids "get it". So how do you teach (or how have you taught) your kids gratitude?? There is a great article in Parents Magazine I found called Teaching Children To Be Grateful. An excerpt that really resonated with me:
Gratitude is one of the trickiest concepts to teach toddlers and preschoolers -- who are by nature self-centered -- but one of the most important. Sure, thankful children are more polite and pleasant to be around, but there's more to it than that. By learning gratitude, they become sensitive to the feelings of others, developing empathy and other life skills along the way, says Barbara Lewis, author of What Do You Stand For? Grateful kids look outside their one-person universe and understand that their parents and other people do things for them -- prepare dinner, dole out hugs, buy toys. "On the flip side, kids who aren't taught to be grateful end up feeling entitled and perpetually disappointed," says Lewis.

I thought the article was very insightful, and I appreciated some of the tips they gave for parents to help their children learn to be grateful people. Some of those ideas included working gratitude into the daily conversation, finding goodwill projects, encouraging generosity, insisting on thank-you notes, etc. My husband and I really wanted to do a fun family activity through the month of November that would help us work gratitude into our dinner conversation, specifically for our three year old. I decided to make a gratitude tree. It maybe took an hour to put everything together is all, but it has been the best thing for our little family!
Here's how to make your own:
1. Paint the outline of a tree on butcher paper, and hang it up on a wall. You can make it as big or as small as you want. I wanted ours to cover a big door in our kitchen, so we went pretty big. I had been talking up our thankful tree to my three year old, so as you can see, he was ecstatic to help me paint:)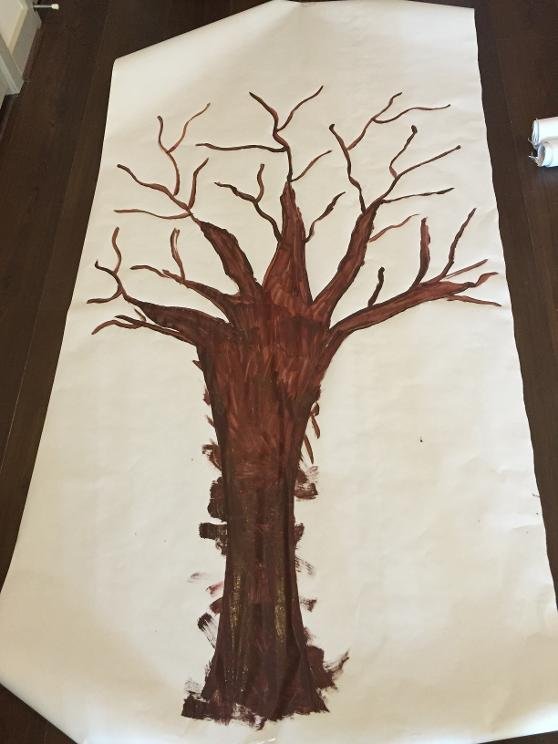 2. Cut out leaves on red, yellow & orange cardstock paper. I picked up a little packet of leaf stencils at Michaels and traced them onto the colored paper, then cut them out. This was definitely the most time consuming part of the project, but worth it to me because I liked the look of the stencils. (You could easily freehand your own leaves if you're in a crunch for time. pun intended! ha! )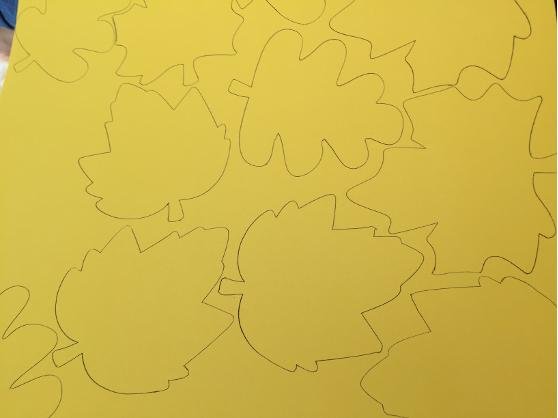 3. Track down some glue, and a sharpie marker.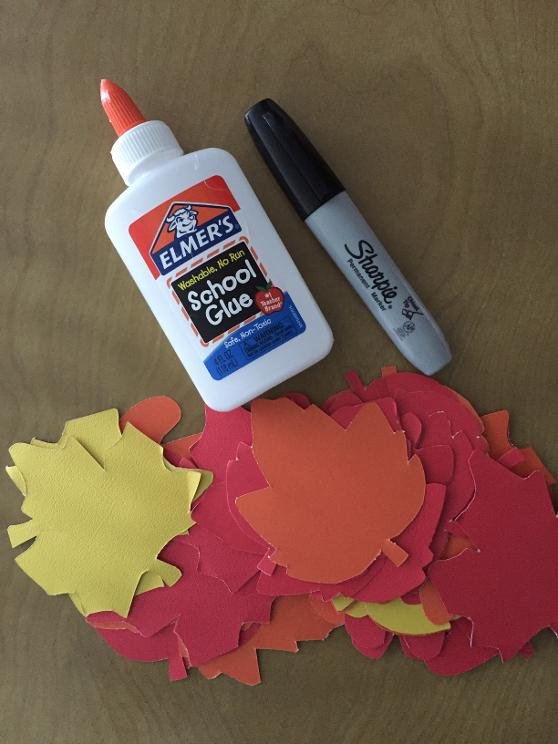 And now, for the fun part!
4. Take turns as a family writing things you're grateful for on the colored leaves, then glue them up on your tree! By the time Thanksgiving rolls around you'll have a full tree!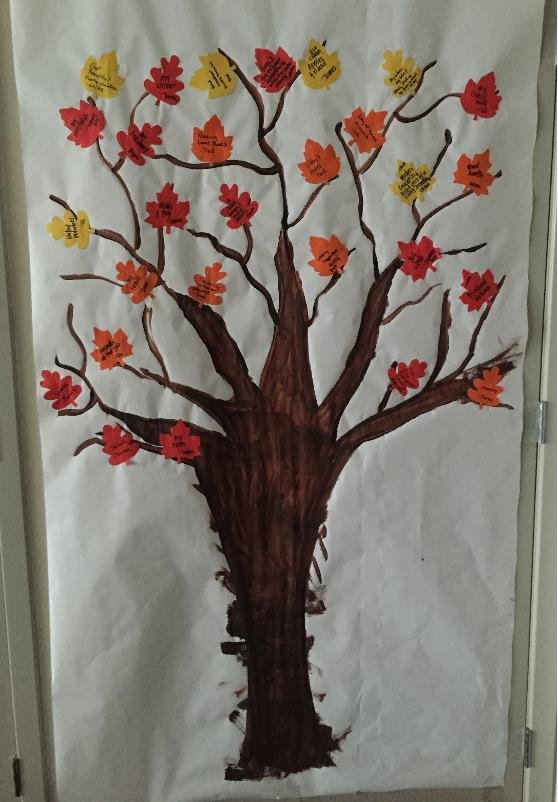 Like I said before, this is a super easy project, but the results have been amazing! Every night before dinner, we have started taking five minutes to go around the table and each of us picks something we were grateful for that day, then we write them on the leaves and hang them on the tree. On the first night it literally took my 3 year old 45 minutes to come up with something he was grateful for on his own. (At that point we were thinking it was going to be a lonnnnnng month:) Since then though, he has gotten so much better at finding things! Yesterday he approached me three times throughout the day and wanted to add gratitude leaves just for fun (and he'd thought of the things he was grateful for all on his own:)
What other things have you done to help your kids "get" the concept of gratitude? Please share!
Sort By Blog Topic:
Popular Posts
Subscribe to the Room To Talk Blog
Subscribe to the Room To Talk Blog
Unsubscribe from the Room To Talk Blog