Posted by Andie on December 24, 2015
One of my favorite childhood Christmas memories is playing 'Don't Eat Pete!' I'm not sure where this game originated from but it's basically the best game in the whole world to a candy-loving, game-craving kid. It's simple, really. Here's how to play:
1. You have a sheet of paper with a bunch of elves on it, and you carefully place an m&m (we always used the red and green m&m's as a kid so I'm privy to those, but any little piece of candy will work) on each elf.
2. Whichever child is going to go first leaves the room so that they can't hear the rest of you while you're picking one of the random elves to be 'Pete' for the round.
3. The child then comes back into the room, sits down, and starts picking up m&m's from off of the elves and popping them in their mouth. The goal of the game is to eat as many m&m's as possible before you pick the m&m that is on Pete! Once the child picks up the m&m that is placed on 'Pete', everyone yells at the top of their lungs "DON'T EAT PETE!!" and then the turn goes to the next child.
It's sort of silly when you think of how little skill is involved in this game, but I promise it's a real winner! I've spent hours of my life playing 'Don't Eat Pete' with my siblings as a kid, and now that I'm an adult I have loved introducing it to my own children. My three year old is basically obsessed, so even if your kids are really young they are sure to love it! You can find several pdf's of Don't Eat Pete on pinterest that you can download- here is one of the cutest ones that I saw!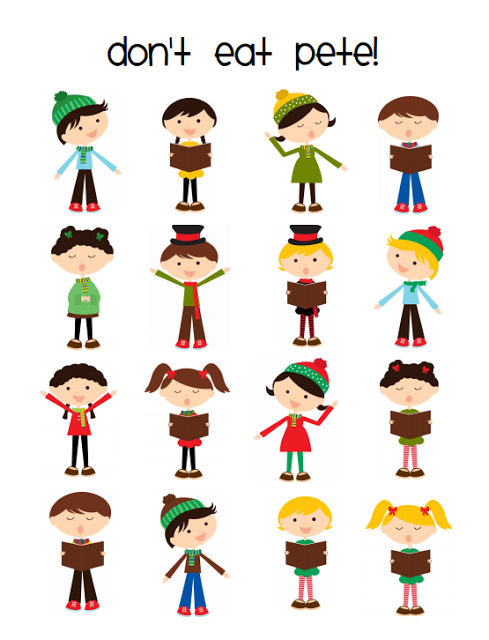 Remember, DON'T EAT PETE!!!!
Merry Christmas, everyone! Hope you have a warm, safe & happy holiday with those you love!
Popular Posts
Subscribe to the Room To Talk Blog
Subscribe to the Room To Talk Blog
Unsubscribe from the Room To Talk Blog