Posted by Kerry on June 18, 2015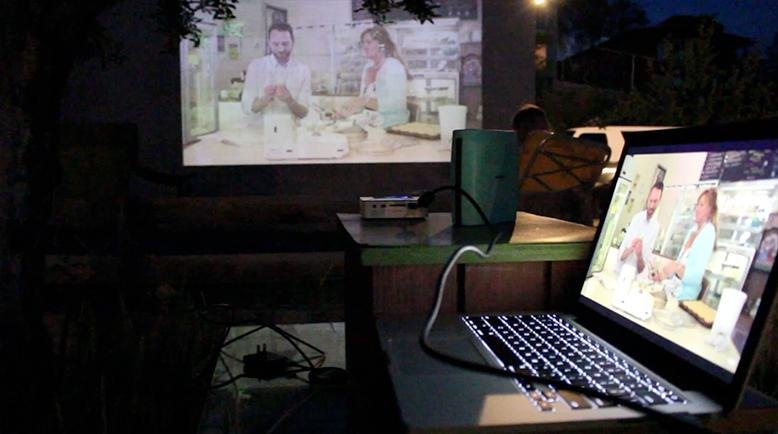 Richard is our electronics buyer and he dropped off this sampling from XSories the other day and I jumped at the opportunity to test this stuff in the real world. XSories makes a ton of cool stuff for camera/video nerds like myself including tripods, monopods, suction mounts, and this very cool WiFi enabled pocket projector. Most of you are familiar with how the other stuff works, so let me focus on the XSories X-Project Wi-Fi projector for a minute.
It has a decent onboard battery that will give you at least an hour and a half playback on full brightness. With the proper setup you can have a very clear image on a wall - I believe we were probably watching an 8-10 foot image on my garage at my home. Since this projector is so small, I could see us taking it camping, putting it in a spare room for guests, and definitely watching more than one movie in our backyard this summer. I knew my daughter and I thought it was cool but I was shocked about how much my wife liked it. She was definitely asking about pricing a few minutes into the movie.

You can use this projector in a variety of ways. It has an onboard slot for an SD card, so you can just go from your camcorder straight to the projector and watch home movies. It also has android and WiFi so you can watch your favorite YouTube videos with friends or you can go oldschool like us and plug in a laptop or DVD player. Whatever you end up doing with it - it's very cool and very easy. The projector has an onboard speaker and I never thought to check it out because I had synced my Bluetooth Bose SoundLink to my laptop for awesome theater sound. It's moments like these where I am sitting in my backyard, enjoying the comforts of nature and at the same time streaming a true drive-in experience with equipment that could fit in a small backpack, that I realize how awesome it is to live in the future. Maybe it's time to talk yourself or your Dad into a backyard theater. Father's Day is this weekend you know...Go ahead and watch the video and see the XSories projector in action.

Sort By Blog Topic:
Popular Posts
Subscribe to the Room To Talk Blog
Subscribe to the Room To Talk Blog
Unsubscribe from the Room To Talk Blog