Posted by Kerry on July 13, 2015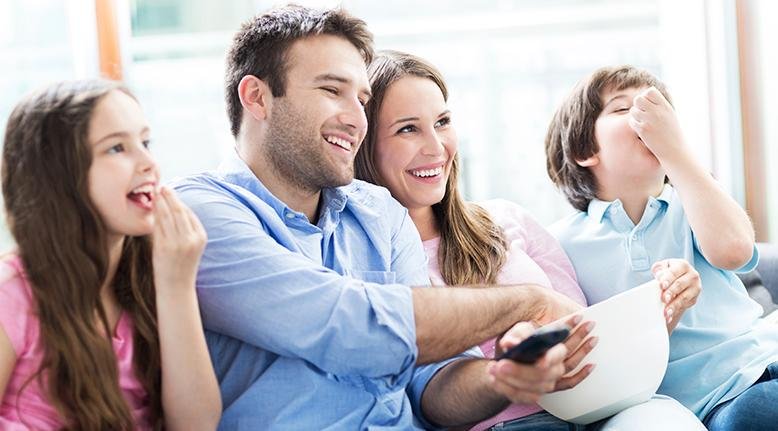 I love tv. I love sitting down on a comfy couch with some Oreos and milk and melting into the cushions and I love watching a movie with my family while we comment, cheer & laugh. Back in 2008, when it was just my wife and I, we tried our first attempt at cutting the (cable) cord. It was a clunky experience - we had high speed internet and we ran Hulu through a pc connected to our living room tv. It took a lot of setup with extra cables, keyboard and mouse, and after a few months we decided it wasn't perfect yet, so we went back to cable. But when our daughter was born 2 years ago
and our tv viewing dropped to almost nothing we realized that we could cut the cord and save a ton of money in the process.

Thanks to Hulu+, Netflix, HBO NOW, Showtime Anytime, Amazon Prime, and a host of other streaming networks, you aren't giving up anything by getting rid of your mega 400-channel cable package. I know one major fault in the cord cutting up until now was the fact that sports fans didn't have a solid option to see their teams and that's where a new service called Sling TV from Dish Network comes into play. Sling TV is a streaming service that doesn't require a satellite dish and for $20 a month gives you access to major cable channels including ESPN, ESPN2, Food Network, AMC, A&E, History, TNT, HGTV, IFC & Disney. So if your love for Property Brothers was your excuse for keeping cable or the fact that you named your children after your favorite team's mascot, now's your chance to save a few bucks on your monthly bill.
So let's look and see how much you will be saving by cutting the cord. I had a midlevel cable package, high-speed internet, HBO, and two digital cable boxes. This cost me $120/mo + our Netflix subscription ($7.99/mo) for a total of $1536 per year. Your package may be higher or lower. Our current setup saves us $900 per year!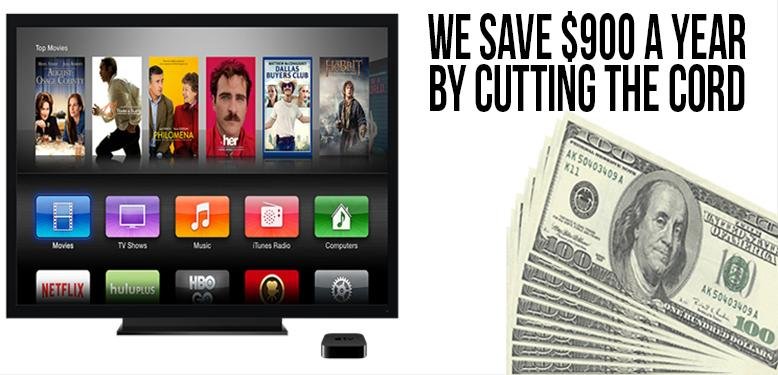 We pay $30/mo for high speed DSL, $7.99/mo for Netflix, and $15/mo for HBO NOW for a total bill of $636 per year. This is a 59% savings from our previous cable bill. We have a digital HDTV antenna that pulls in local channels in 1080p. This gives us live access to the major networks (NBC, CBS, ABC) plus PBS and a few local signals. The two monthly subscriptions we pay for are Netflix and HBO NOW. We have access to a ton of shows, movies & documentaries, and since we only watch 1-2 hours of programming per day we never catch up to what's out there. We are probably a few months to a year behind on major shows, so if staying current with what's new is a priority, you might want to buy a HULU+ subscription ($7.99/mo). There are plenty of options for kids on most of these services, so our daughter is more than happy. We also enjoy free apps like YouTube and PBS kids.
Now, the hardest thing for a new cord cutter to get used to is the lack of channel surfing. You can still browse through some menus and see if something looks good but I remember the early days of looking at these massive catalogs and not knowing where to start or what I wanted to commit to. After a few months you get used to it.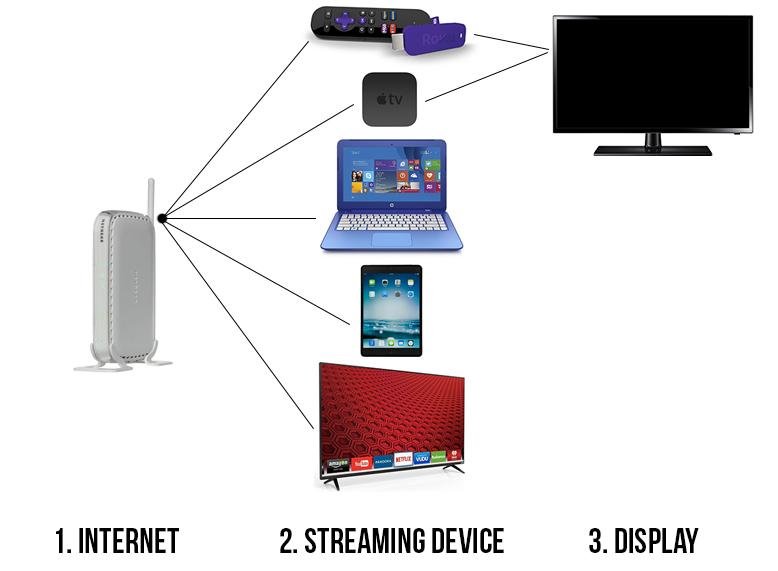 What do you need to stream television and cut the cord? First of all you need high-speed internet. Depending on where you live will affect what your local cable or DSL company calls "High Speed" but to get the best experience out of streaming you will want at least 10mbps down and preferably 15mbps down or higher. The one thing you don't want to do is constantly battle with your streaming service as it pauses or buffers due to slow connection speeds. So if you live in a place where high speed internet is hard to come by you might want to stick with cable or satellite, or if you currently have slower internet at home, spend some of the money you will be saving by not paying for cable tv and get a faster internet connection.
Next up you need something to stream with. If you have a laptop or iPad then you just need to download an app or visit a website. If you want to watch on your older big screen tv then there are a variety of dvd players, Roku, or AppleTV that offer streaming apps. If you are in the market for a new television make sure you purchase a Smart TV. These tvs have all your favorite apps built in and many even feature a button on the remote for Netflix or Hulu+. And since many of these new Smart TVs are 4K, check out this other article I wrote that tells you how to watch the best 4K content.
Usually with technology you have to pay more money for a better experience but this is not one of those times. Now you can save a boatload of cash and handpick the channels you and your family will enjoy and by the end of year one you will literally have saved enough money to buy a new Smart TV. So, if you have been on the fence at all about cutting the cord I can tell you from personal experience that we are going on year two and are not looking back.
Sort By Blog Topic:
Popular Posts
Subscribe to the Room To Talk Blog
Subscribe to the Room To Talk Blog
Unsubscribe from the Room To Talk Blog