Posted by Kerry on August 20, 2015

Hi, my name is Kerry and I have a drainage problem. It has taken me 4 months to admit this problem but I am ready to come clean and take care of it. Essentially one side of my house doesn't have decent irrigation which has led to a sideyard that looks like a forclosed home in a Mad Max movie. Luckily it's small, and we have a tall fence so the only people who have to look at it is my family, but it's time we take care of the issue and beautify the yard in the process! So, I am starting to take advantage of the cooler August nights and I am grading the land and installing a dry creek bed.
As I have mentioned before, my wife and I are slowly xeriscaping our yard. As things need to come out, we replace them with water-wise plants and landscaping and this dry creek bed will eliminate about 150 ft of land that would have needed watering. I think we have settled on something like these designs from Bear Creek Landscaping, Wooly Blue & Hawks Landscape Inc.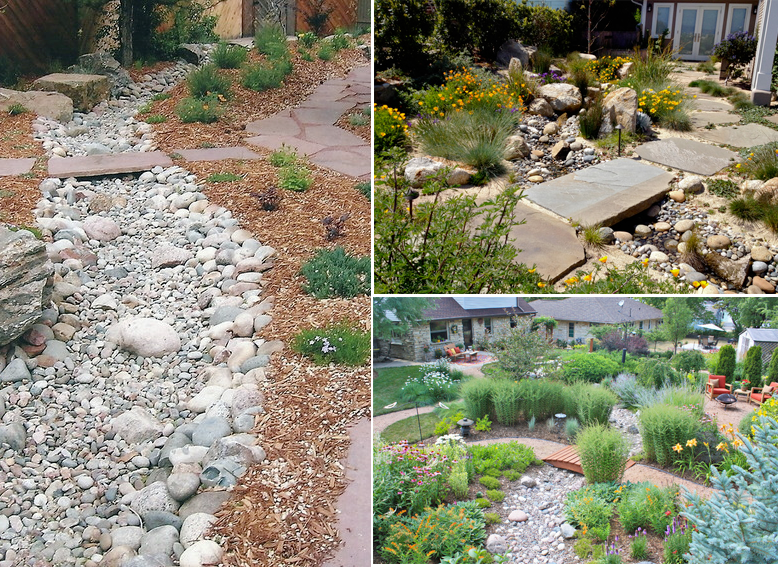 Now, I'm going to need a few things. Before you start a project like this make sure you call 811 and get your yard staked for underground utilities. This way you don't blow up a gas line or fry yourself on an electrical cable or even worse, knock out your underground DSL line. Then how would you read the Room to Talk blog?!!?!? Once your yard is safely staked it's time to dig. You can do this a number of ways. Hire people. Rent a trencher or tiller. Or just be a complete sadist like me and start digging with an old shovel you bought at a yard sale. Here's the 45 second version of what is going to take me weeks!
So I called American Stone, a local landscape rock provider, and I got the following cost estimations. For a 4'x25' dry creek bed I am going to need the following:
1 ton of 1" river cobble (nice round river rocks) $120/ton
1 ton of 3/8" gravel (I'm going with Montana rainbow) $200/ton
How ever many I want of 6" & 12" river cobble $5-$10/piece
Quartzite Boulders $25-$30/piece
2' long flag stones for stepping stones $20-$30/piece
Landscape fabric $25
So material-wise I'm looking at about $500-$600. This is just me, a shovel and a wheelbarrow. Your costs will obviosuly vary by size and design style. Once the dry creek bed is complete, I will still need a hundred or two for mulch and plants but I won't do any of that until next spring. If any of you have done this project and have tips for me or the RC Willey community, please share in the comments below! And if I ever finish this project I will be sure to share photos with you.
Popular Posts
Subscribe to the Room To Talk Blog
Subscribe to the Room To Talk Blog
Unsubscribe from the Room To Talk Blog