Posted by Andie on September 2, 2015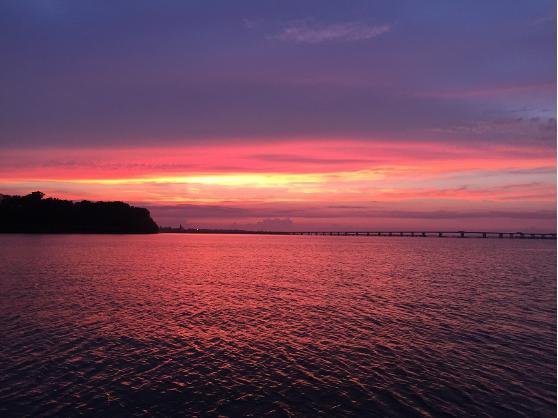 via my summer vacation to the Chesapeake Bay, Maryland (no filter!)
September is here, and summer vacations are winding down or in my case, over. Which brings up a topic I'd like your input on. How many times have you bought something totally ridiculous on vacation because you felt obligated to bring home a souvenir? It's embarassing how much money I've spent over the years on pure crap. I can't even begin to tell you how many
little silver spoons (I'm still not sure how I got sucked into collecting these as a kid-- was this an actual thing??), hideous t-shirts, beanie babies, whiskey glasses (the funniest part about this one is that I don't even drink), and dumb little trinkets I have bought, all in the name of 'remembering' my vacation.
So why do we do it? What possesses us to spend hard earned money on junk? Here are three questions you should ask yourself when you're mulling over a possible vacation souvenir purchase:
1. Would I buy this item at home? Is this something you would really put money into if you were home, or is it an impulse buy simply because you're on vacation? It's easy to blow through your money when you're in spending mode on things that are just going to end up in the "donate" pile in a few months. If it's useless, overpriced junk (or even junk that's on sale!) put it back on the shelf and walk away.
2. Is buying this item practical? Does it make sense to buy it? Remember, just because it's "cool" or interesting doesn't mean you'll have any use for it once you're home living real life. I learned the hard way that buying full size wooden clogs from Holland (not wearable, mind you) wasn't the smartest purchase I've ever made. Nor did it help matters that they took up a whole lot of precious pounds in my suitcase on the way home! Don't make this same kind of mistake.
3. Will I actually display/or wear this item? This is possibly the most important question you can ask yourself. Sometimes on vacation you splurge on something and it ends up being a fantastic statement piece in your home! Sadly, this doesn't always happen though. You need to really think about the end game- will you actually display/wear it for years to come or is it going to end up tucked away in a closet in your basement (only because you feel too guilty to throw it away)? Truthfully, most pieces of clothing (especially the native kind typical to the area I visited) I've purchased on vacation have ended up in my Halloween costume bin. Probably not worth it. Unless of course you're really into Halloween.
Now before you think I'm completely anti vacation souvenir...... quite the contrary! Vacations are the perfect place to find and collect beautiful and interesting pieces, (that none of your friends or neighbors have!) to grace your home. It might take a little more work (I dare say you'll have to look past the hotel gift shop), but it's worth it in the end. Also, you don't have to spend loads of money. Sometimes the quirikiest pieces are relatively cheap! So, bottom line? Be thoughtful and conscious about your vacation purchases. Your house will be full of interesting conversation starters, you'll be surrounded by happy vacation memories, and you'll keep your "donate" pile to a minimum!
Here are a few of my favorite things around my house that I've collected from some of my (and family members') travels.....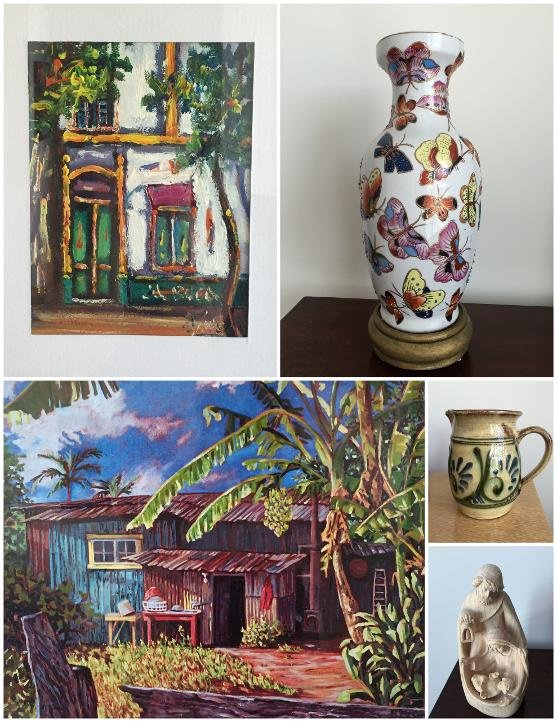 From top left: oil canvas from Argentina, butterfly vase from ??, painting from Kauai, pitcher from Germany, nativity from Germany
What are your favorite items in your home that you've picked up on travels?
I'd love to hear what your secrets are!!
Sort By Blog Topic:
Popular Posts
Subscribe to the Room To Talk Blog
Subscribe to the Room To Talk Blog
Unsubscribe from the Room To Talk Blog