Posted by Kerry on December 20, 2016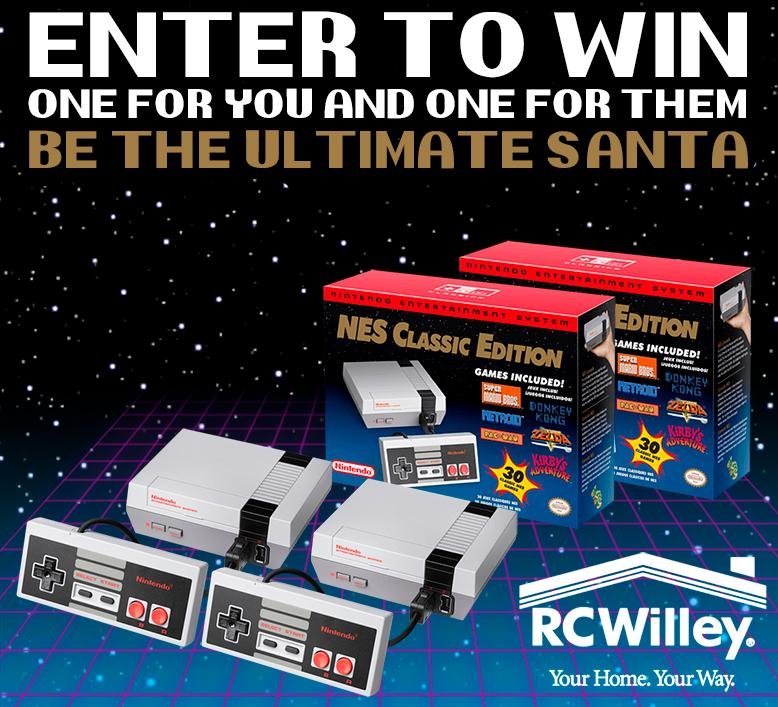 Today, December 20, 2016, and tomorrow, December 21, 2016, RC Willey will be awarding 4 lucky people an NES Classic game system. The NES Classic video game system is a modern version of the retro Nintendo Entertainment System we all fell in love with as kids. It comes with one controller and 30 preinstalled games including:
• Balloon Fight
• BUBBLE BOBBLE
• Castlevania
• Castlevania II: Simon's Quest
• Donkey Kong
• Donkey Kong Jr.
• DOUBLE DRAGON II: THE REVENGE
• Dr. Mario
• Excitebike
• FINAL FANTASY
• Galaga
• GHOSTS'N GOBLINS
• GRADIUS
• Ice Climber
• Kid Icarus
• Kirby's Adventure
• Mario Bros.
• MEGA MAN 2
• Metroid
• NINJA GAIDEN
• PAC-MAN
• Punch-Out!! Featuring Mr. Dream
• StarTropics
• SUPER C
• Super Mario Bros.
• Super Mario Bros. 2
• Super Mario Bros. 3
• Tecmo Bowl
• The Legend of Zelda
• Zelda II: The Adventure of Link
These have been sold out nationwide with some of them going for as much as $999 on eBay. If you want to be Santa of the Year, log on to our Facebook and Instagram and try your luck at winning one for you and a friend!
Good luck and Happy Holidays!
Popular Posts
Subscribe to the Room To Talk Blog
Subscribe to the Room To Talk Blog
Unsubscribe from the Room To Talk Blog