Posted by Kerry on March 14, 2016

When it comes time to replace the carpet in your home it's something you want to get right the first time, and there is a variety of quality Stainmaster carpet to choose from at RC Willey. No one wants to pick everything up off their floor each year to replace their carpet because they bought a substandard carpet brand nor do they want to keep rearranging the furniture to hide unsightly stains or wear. This is why you need to check out Stainmaster carpet for your home.

The best carpet for your family...
Got a house full of kids & their messy friends? Have a few hallways that just get trounced day in and day out? Have a husband who just can't remember to take his shoes off when he comes home? Stainmaster Active Family carpet is built to handle all this and more. It's durable, easy to clean, and will look great for years to come.
Stainmaster Active Family carpet works in 3 ways.
Exceptional Durability - Stainmaster Active Family is built to last - a perfect mixture of having kids and nice things!
Sometimes you just want to eat in front of the tv. Have no fear! Stainmaster Active Family carpet resists food and beverage stains!
Built for Performance - Got a few runways in your house? Stainmaster Active Family carpet can handle the whole family plus guests. It's easy to clean and scientifically designed to maintain its original appearance over time.

For the pet parents...
Stainmaster Pet Protect is specially formulated for your needs. Got an old dog or new puppy who just doesn't quite make it outside every time? Have a cat who gets upset when you don't leave her a perfectly clean litter box and takes it out on your living room? Have an Iguana who just likes the feel of some fresh new carpet? These things happen and instead of getting upset at your little creature, we need to protect ourselves against worst case scenarios.
Stainmaster Pet Protect carpet works in 3 ways.
Resists Pet Stains - Thanks to a built in stain resistance that won't wash off, Stainmaster Pet Protect can be cleaned with hydrogen-peroxide cleaners!
Reduces Pet Odors -With the Stainmaster carpet/cushion system, you can take advantage of the breathable moisture barrier which helps keep pet waste out of your subfloor.
Releases Pet Hair - A proprietary process allows Stainmaster Pet Protect carpet to release pet hair which allows your vacuum cleaner to more easily pick it up off your floors!
Which Stainmaster fiber is right for me?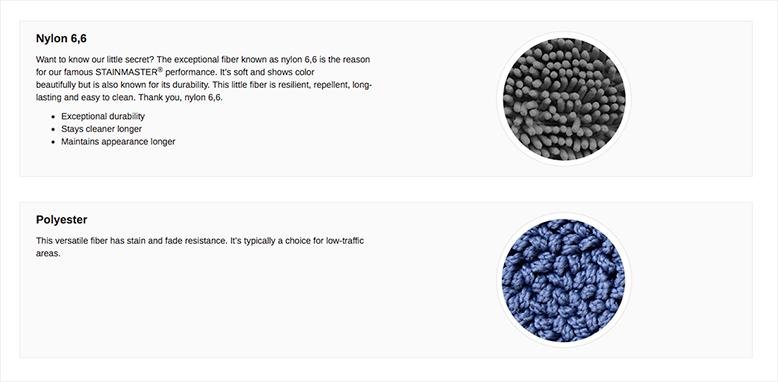 Here's a video showing the difference between Stainmaster carpet and a standard nylon carpet. This video is 5 years old so you can imagine how far Stainmaster has come.
Popular Posts
Subscribe to the Room To Talk Blog
Subscribe to the Room To Talk Blog
Unsubscribe from the Room To Talk Blog