Posted by Kerry on April 13, 2015
I'd like to take a quick moment to introduce myself. My name is Kerry and I will be joining Andrea here on the Room to Talk blog! I'm very excited and hope to bring a different perspective, one of many perspectives here at RC Willey. I've been spending a lot of time on my back patio with my family in the past few weeks: eating dinner, making ice cream, and generally hanging out. Today I'd like to bring you my version of modern backyard essentials. I'd love to hear your thoughts and let me know what I missed, because I love new suggestions and insights from everyone!
We like to change our style regularly, but buying a new furniture set each season or each year just isn't feasible for our budget. This is where pops of color come into play. A few well-placed throw pillows on a neutral patio set will really liven the place up and once you place your patio set on a coordinating outdoor rug, the whole place will come together nicely. I chose the modern patio set below for a number of reasons. First of all it's very versatile. You can take the two loveseats and put them side by side to create a long couch and when you add the chair to the end it acts like a modern outdoor sectional. Or, you can configure this set like it is seen here for a smaller patio like the one I have at my home. I also like this set for the price. It could be 3 times the price from another manufacturer and people wouldn't blink twice and I could easily see a set like this at a boutique hotel or on a rooftop deck downtown.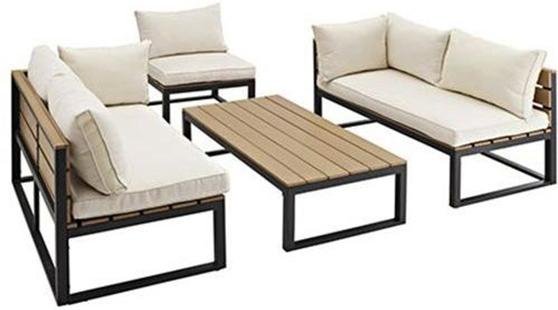 Outdoor rugs are an amazing invention! They unite and define your space and give you a safe place to rest your feet. They are durable and colorfast and you can either sweep them with a broom or hit them with a leaf blower when grass clippings and leaves collect. I chose this one because I love the colors and it blends perfectly with the modern patio set.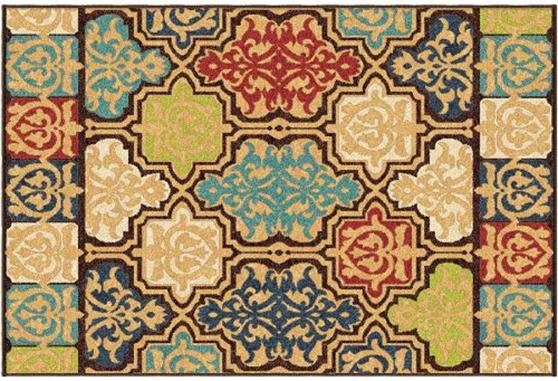 I received the mint Bose SoundLink bluetooth speaker for my birthday and I absolutely love it. The sound quality is perfect for the patio; it can be loud enough to host a party but not so loud that you annoy the neighbors. I also love the retro look - reminds me of a 1980's Sony Walkman or something. Music is a must on our patio and I find myself taking this speaker into the garage and on road trips and camping as well.
I also believe you need fire in a backyard and this cool Crosley Wildlife Fire Pit offers that cabin look and feel in a compact package and thanks to the top firescreen you can enjoy the heat without unleashing embers all over your grass.
Finally, I am a big composter and I challenge myself to see how little we can throw away each week. When you recycle and compost, your trash can gets pretty light, and it's very exciting to see your old leaves and food scraps turn into rich soil for your garden. These new composters are amazingly efficient and they also lock down the mess and the smell of open air pits.
Finally, it's kind of hard to enjoy the patio without loads and loads of food. The summer for me is all about cooking out. It takes a daily activity and turns it into an event. The kids play in the yard, the music is going, and everyone enjoys each other's company. A few years ago I decided it was time to invest in better products and the Weber gas grill is a grill that will keep you happy for years to come. Plus, the copper finish looks great outdoors.
The final product I have chosen for this modern backyard essential list is this galvanized potting bench. I think it's perfect for a dual-purpose piece of furniture. You can use it and abuse it when potting your plants but the rest of the time it will make a nice sideboard on your patio for drinks, snacks, and a speaker. This is one of those pieces that will look better and better with age and can always be spray painted to match your taste.
I hope you enjoyed this essential list and please let me know what I missed! I love spending time in our backyard so anything to make it better will be much appreciated.
Popular Posts
Subscribe to the The RC Willey Blog Blog
Subscribe to the The RC Willey Blog Blog
Unsubscribe from the The RC Willey Blog Blog