Posted by Kerry on October 11, 2016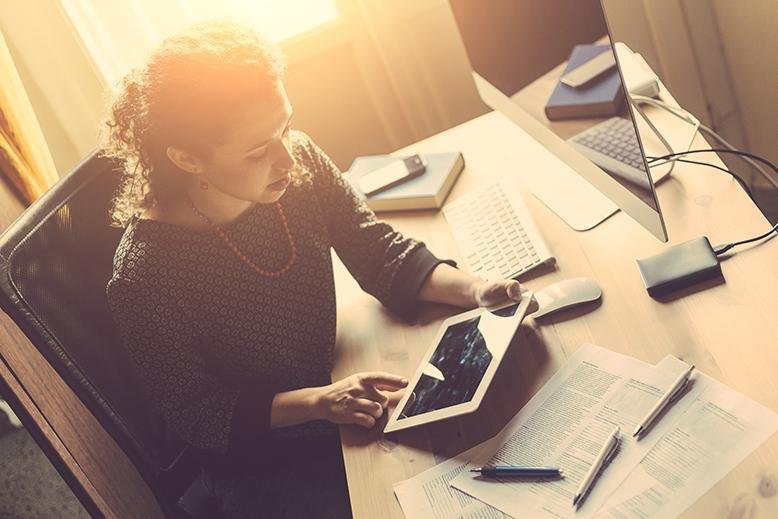 Working from home allows us to save time and money that would otherwise be expended during daily commutes to and from the office. We can also start work at the most convenient time and take care of chores at home that often get neglected. With all the good that working from home can bring, it is important to remember to not allow procrastination and inefficient uses of your time become bad habits.
Here are some effective tips on how you can best utilize your time and be productive while you work from home.
The mindset that you put yourself into before you start work is essential. It is the foundation for a productive workday. To do this get ready the same way you would if you were going to the office. Dress accordingly, eat breakfast, and accomplish any other small morning tasks you may have.
Prepare a work area. Part of creating an efficient mindset deals with your surroundings. Set aside a place in your home that will be used only for work. Don't allow for anything else to cause unnecessary distractions.
Make a Schedule. It is much easier to get work done when you have time set aside used exclusively for "workplace" tasks. Make sure to include breaks when making your schedule so that you don't burn yourself out after the first few hours. For example, take a 10-minute break every 45 to 50 minutes. This will allow your mind time to reset and will also give you an opportunity to check texts, social media or get a snack.
You should also have a list of goals that you can accomplish within the time you allot to working. The more structure you put into your planning the less time you waste.
Take things one thing at a time. It is often easy to feel overwhelmed when you look at a list of tasks and start thinking ahead. This can cause you to feel un-needed stress, which in turn, may drain you of energy that could be better applied to the completion of your goals.
Set boundaries. Working at home openings up the possibility of numerous temptations and distractions. Create a list of things that you will NOT do during your allotted work time and maintain the same level or professionalism you would have in the actual workplace.
Turn it Off. Often when you work from home it becomes easy to never have any real time off. Just like a normal job, you should have a time when you no longer worry about work related issues. Doing this will allow you to spend time with the family and not over work yourself. After all the main reason most choose to work at home is for more freedom and flexibility. Why deprive yourself of that? Just because you work at home, doesn't mean your home should become your new work.
Popular Posts
Subscribe to the The RC Willey Blog Blog
Subscribe to the The RC Willey Blog Blog
Unsubscribe from the The RC Willey Blog Blog