Posted by Andie on December 1, 2017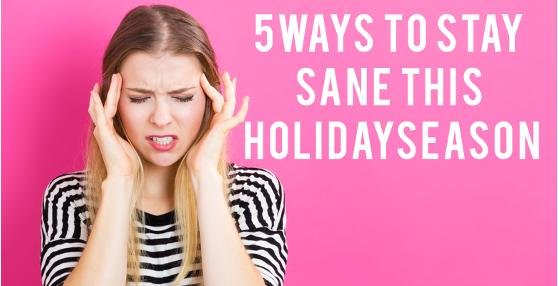 I love the magic of the holidays more than almost anything, but when December rolls around I often start feeling anxious, overwhelmed, and overscheduled. It feels like there is always SO much to do, SO much to buy, SO many parties to go to, and SO many items to be checked off of my very long to-do list. It's easy to get caught up in the rush and the hustle, but you're doing something wrong if the Christmas season is making you miserable. It might be time for a different, healthier approach. Here are five things you can start doing NOW to help keep you sane & happy this Christmas season...

1. Write Down Everything You Need to Get Done
Let's be honest- December is busy. There's no getting around that. There will probably always be a lot to do, but if you stay organized it will feel less daunting. Be sure to make a detailed list of everything that you need to get done. If you need to decorate your Christmas tree, schedule a time to do it! If you need to deliver cookies to your neighbors, decide you will do it on this day, at this time. If you need to take a specific dish to a party, find the recipe, and write down the ingredients you'll need to pick up at the store, before the day of! Make specific to-do lists for different days throughout the month and it will feel more manageable.


2. Create a December Bucket List
What do you WANT to do this holiday season? What are your favorite family Christmas traditions? Volunteering at a local soup kitchen, watching A Christmas Story by the fire, baking sugar cookies--- whatever it is that's important to you, write it down! Once you have a list of activities that will make you happy and get you in the Spirit of Christmas, devise a plan to make them happen. If you don't schedule out the things you want to do, they won't happen.


3. Make a List of Gifts you Need to Buy, and Stick to a Budget
Make a master list of everybody that you would like to send a Christmas card to, or buy a Christmas gift for. Put it all down on paper, and then next to their name, make a detailed list of the gift(s) you'll be purchasing for them. Be sure to do your research, shop online if possible for convenience, and make a list BEFORE you find yourself walking around the mall on the verge of tears. Next, create a Christmas budget. It'll be different for everyone, but look at your finances and decide what feels good for you and your family. It's SO easy to overspend during the holidays. It almost feels like it's impossible not to! But trying your best to stick to a budget, and buying only what you can truly afford will do wonders in helping to keep the stress and anxiety at bay.
4. Prioritize
Once you've scheduled out your month, it might be too much. If your calendar is too full, do your best to honor commitments made, but at the same time, give yourself permission to say "No" to things. You don't have to attend everything, and in fact, your mental health would probably benefit by you not trying to. Put your family, and time with them, first!
5. Ignore Social Media and Stop Stressing
I love instagram, facebook, and pinterest-- but during the Holidays, I feel like they pressure me to have unrealistic expectations for myself. What? You aren't doing Elf on the Shelf with Your Kids? Or a service project every single day of December? Or the 12 days of Christmas? THAT'S JUST FINE! Take a deep breath, relax, and let all of those self-imposed expectations go. There are a million activities/programs/projects you can take on in December, but you don't have to do all of them. Do what feels right! Most importantly, take time to remember the reason for the season, and enjoy making memories with family and friends.


What things do you do in December to keep your sanity?
Popular Posts
Subscribe to the The RC Willey Blog Blog
Subscribe to the The RC Willey Blog Blog
Unsubscribe from the The RC Willey Blog Blog