Posted by Andie on December 11, 2017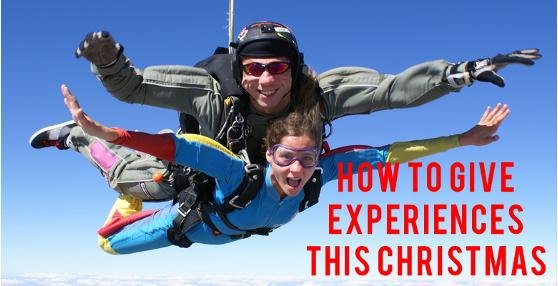 I'll be the first person to admit that I love stuff. I contend that I am the easiest person to shop for because I enjoy it all. Clothes? Yep! Furniture and home decor? Yep! Kitchen Appliances? Yep! Art? Yep! I could keep going but I'll stop now because this is getting repetitive. Bottom line: I love filling my home with beautiful things, and I don't think there is anything wrong with that! Over the past few years, however, I've realized that I love creating memories and enjoying experiences even more than I love things. Traveling with my family, eating a delicious meal at a fun new restaurant, exploring a new city, spending a whole day in the outdoors with people I love, roaming around an art museum, going to see a concert, dedicating time to developing new hobbies- these are the things that really make my life rich. Obviously we still gift each other with things (both that we need and want) but my husband and I like to incorporate giving some great experience ideas to give your spouse, to each other, our children, and our parents as well. We've been doing it for years, and it really is my favorite kind of gift! Read on for some ideas of fun experiences you can gift your children, spouse, parents, or friends this Christmas....
Recently I read an article, "The Science of Why You Should Spend Your Money On Experiences, Not Things" that really resonated with me. It talked about the fact that the experiences we go through as human beings have the ability to give us lasting happiness, whereas the material things we buy might bring us an initial spark of happiness, but it's the kind of happiness that doesn't last. It's only temporary. Studies have found that money does indeed buy happiness, but only up to a certain point.
Here is an excerpt from the article that I loved....


"How adaptation affects happiness, for instance, was measured in a study that asked people to self-report their happiness with major material and experiential purchases. Initially, their happiness with those purchases was ranked about the same. But over time, people's satisfaction with the things they bought went down, whereas their satisfaction with experiences they spent money on went up.
It's counterintuitive that something like a physical object that you can keep for a long time doesn't keep you as happy as long as a once-and-done experience does. Ironically, the fact that a material thing is ever present works against it, making it easier to adapt to. It fades into the background and becomes part of the new normal. But while the happiness from material purchases diminishes over time, experiences become an ingrained part of our identity.
"Our experiences are a bigger part of ourselves than our material goods," says Gilovich. "You can really like your material stuff. You can even think that part of your identity is connected to those things, but nonetheless they remain separate from you. In contrast, your experiences really are part of you. We are the sum total of our experiences."
Isn't that good??
Now, please don't misunderstand me. Am I saying you shouldn't purchase any Christmas presents? Absolutely not. Opening packages Christmas morning is magical, and, hello, I work for a retail company! Ha! But what I am saying, is throwing an experience gift or two under the tree might increase your happiness dividends for a while.
Without further ado, here are some ideas of fun experiences.....
- Annual Museum Membership: children's museums, science museums, art museums, etc.
- Zoo Membership
- Community Theater Season Tickets
- Season Sports Tickets: Season tickets to your local college team, major league baseball etc
- Classes: art classes, dance classes, chess classes, karate classes, etc.
- Orchestra Season Memberships
- Local Attraction Season Passes: Disneyland, Six Flags, Busch Gardens, etc.
- Fun family vacation or quick weekend getaway
- Local Jump Gym
- Local Rock Climbing Gym
- Gift Certificates to Movie Nights
- Craft Bucket
- Musical Instrument
- Scuba Diving
- Sky Diving Certification
- Develop new family hobbies: camping, bowling, boating, grilling
- Date Nights (planned, payed for, babysitters pre-arranged)
What other experience gifts have you given in the past?
Sort By Blog Topic:
Popular Posts
Subscribe to the The RC Willey Blog Blog
Subscribe to the The RC Willey Blog Blog
Unsubscribe from the The RC Willey Blog Blog