Posted by Andie on December 29, 2017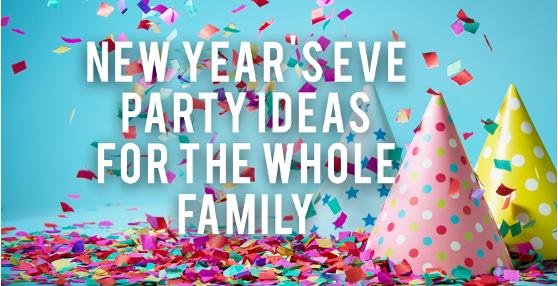 I used to have a complicated relationship with New Year's Eve. When I was single, I felt like there was SO much pressure for NYE to be the very best night of my entire year...... and I always ended up super disappointed because it never measured up to my lofty expectations. Then one day, I got a little older and wiser, and I stopped caring! I started looking at NYE and appreciating it for what it was (for me, at least)- a night to stay in and hang out with family and friends, eat good food, and play games. Once I let go of the weird pressure, I started loving New Year's Eve! Especially now that I have kids that can join in on the fun!
We are going to a cabin this year with some friends to celebrate over the holiday, and we won't have any WIFI. I'm actually pretty excited about this little factor. Doesn't it sound cozy and a little old fashioned? I love it. I'm planning some NYE games for our celebration for both the kids, and the adults- here are some of the best ideas I've come across...
1. Minute to Win It Games
2. Sparklers/ Fireworks
3. Guess How many objects in a jar
4. Beverage Bar/ Dessert Bar
5. Indoor Treasure Hunt
6. Photo Backdrop with props
7. Mock countdown at 8pm for kids
8. Toast with sparkling cider or hot cocoa with marshmallows
9. Slumber Party
10. Play dress up- put on fancy clothes!
11. Dance party
12. Make resolutions, then play 2 resolutions and 1 lie
13. Build a fort and have a movie marathon night
14. Pop balloons each hour before midnight starting at 4pm
15. Fill treat bags to be eaten every hour
16. Put together a "year in review" slideshow and watch it together!
17. Play New Year's Eve Bingo
18. Spa night- complete with nails, face masks, pedicures, etc.
19. Make party hats
20. Star gazing outside
21. Snowball fight (if you have snow!)
22. Eat fondue
23. Make a NYE surprise ball, then have everyone open the present with oven mits on. In each layer of wrapping, have a little treat or surprise.
24. Make a bucket list for the upcoming year
25. Create a time capsule
What are your favorite family-friendly games/activities to do on New Year's Eve?
Popular Posts
Subscribe to the The RC Willey Blog Blog
Subscribe to the The RC Willey Blog Blog
Unsubscribe from the The RC Willey Blog Blog