Posted by
Alyssa
on April 20, 2017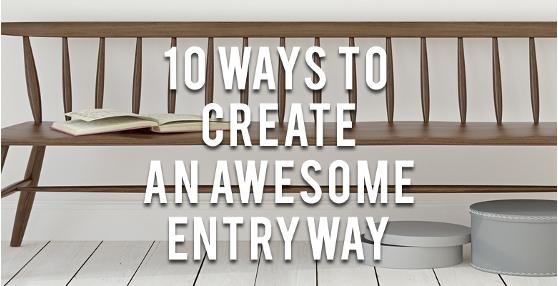 I've put a lot of time and energy into decorating our house to make it our own, but I realized the other day that I've been neglecting our poor entryway in a serious way. When we first moved in 7 months ago, I haphazardly threw a giant mirror on the wall across from our front door, and then moved on to bigger priorities. After the dust had settled, I decided it was time to show my entry a little TLC. Can I just say, it has made all the difference in the world?! It feels like an actual room now!
The entryway isn't really at the tip top of the list when it comes to rooms you want/need to makeover, but it's the very first impression you give people of your home! Whether it's a friend, your neighbor, girl scouts selling cookis, or the mail man- you are giving them a sneak peak into your world! It's kind of a big deal! What does your entryway say about you? Is it warm and welcoming? Does it reflect your style, and entice people to want to come in and see more? Or is it cold, boring and easily forgetable.
Read on to learn about 10 things to do/incorporate in your entryway that will bring it to life in a big way!
1. A place to put your keys
The greatest of entryways are just as functional as beautiful. If you use your front door regularly when leaving the home, make sure you have a spot carved out to store your keys. Whether it's a little bowl on a console table, or a hook on the wall, I promise it will make your life ten times easier because you won't have to search the house regularly for missing keys!


2. Storage for Shoes
I really like having my kids take their shoes off when they come into the house, but I hate hate hate (no loathe!) tripping on random shoes strewn about the floor. It looks messy, and cluttered, and makes me crazy! An easy way to tame the shoe chaos is to incorporate bins or baskets in your entryway. Cute on the outside, but they can also hold shoes inside and make your life simpler.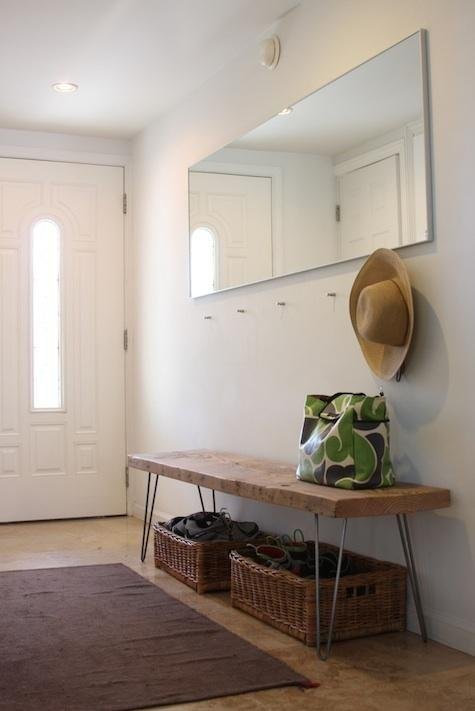 via pinterest


3. A place to sit to take off/put on shoes
A bench or little chair gives off an inviting vibe, and it's always nice for guests to have a place to sit while taking off their shoes or setting down their bags.



4. Hooks for jackets, bags, hats, etc.
This is kind of a no-brainer. Look how cute and functional these hooks are....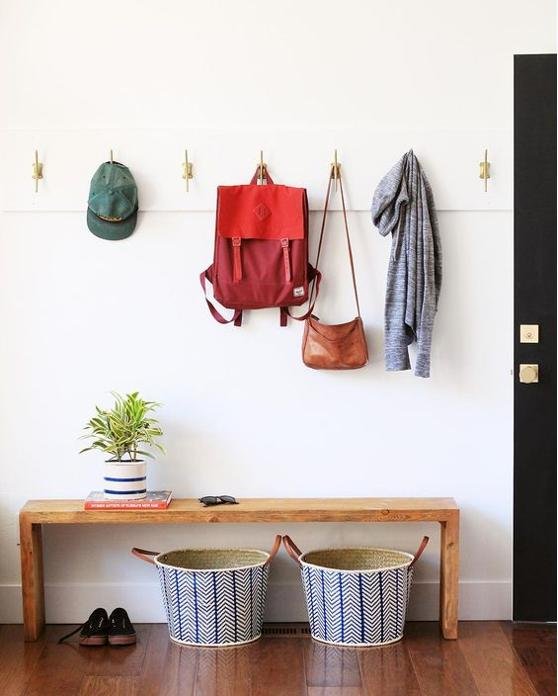 via pinterest
5. Great Art
Just because it's an entryway, doesn't mean you can't hang up fabulous art. In fact, you definitely should! Like I said before, first impression!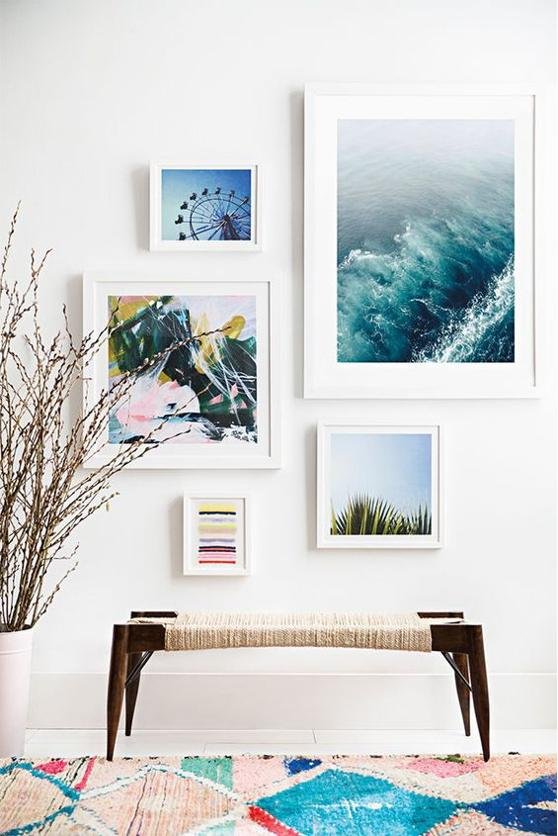 via pinterest
6. A Mirror
I am a firm believer that it's always a good idea to hang a mirror in the entryway, so that before you go anywhere you can pause for a moment to put on lipstick, and check yourself (say no to food in your teeth!) before heading out the door. Also, mirrors give off more light, and make spaces look larger than they actually are! If you have a small entryway that you'd like to feel bigger, a mirror is a must!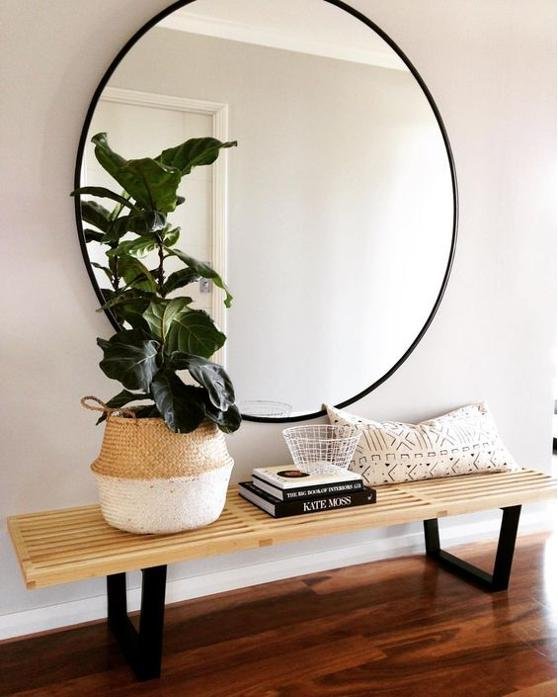 via pinterest
7. Wallpaper
Wallpaper is an obvious choice when it comes to entryways! It's an easy way to add personality and flair to a room. Plus, it can serve as a great conversation starter.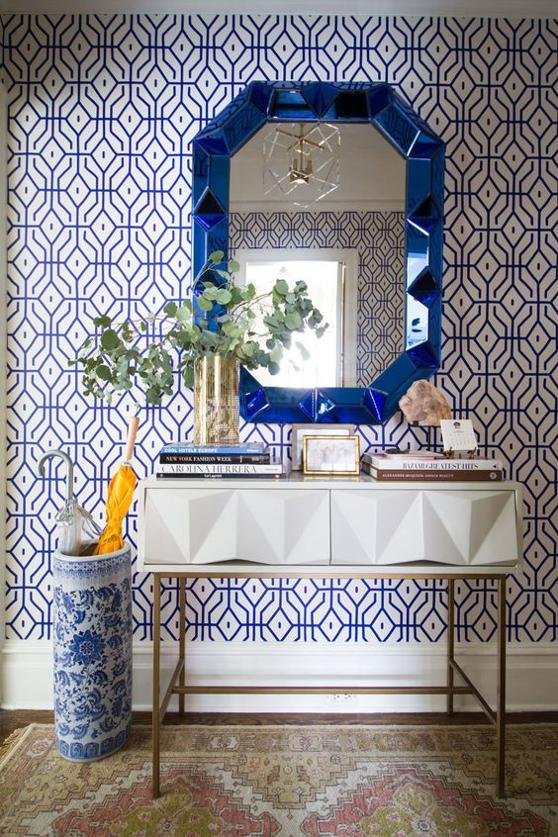 via pinterest
8. Greenery
Bring the outdoors inside and try to display something green. A beautiful plant or flower can go a long way in bringing balance and harmony to an entry space.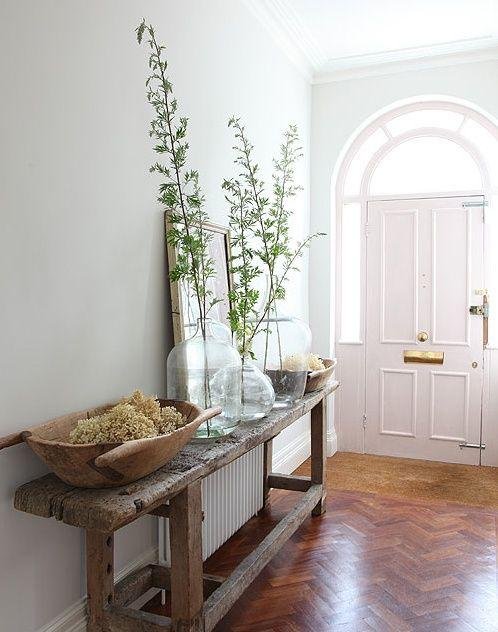 via pinterest
9. Patterned pillows
A patterned pillow is such a simple thing, yet it can often be the difference between a stale and vibrant entryway. The brighter and more colorful, the better!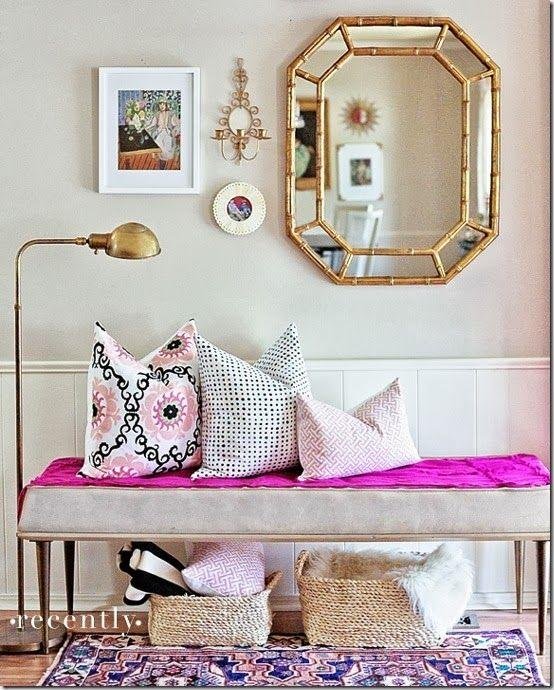 via pinterest
10. A great rug
Whether you have a large enough entry to boast a big area rug, or you only have room for a teeny tiny runner, don't skip the rug!! A good rug feels nice under your feet, stops dirt from being tracked through the rest of the house, and serves as a solid anchor for the rest of the room.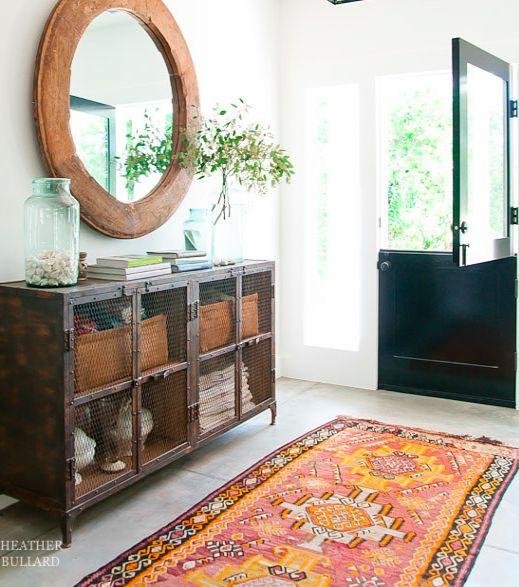 via pinterest
And there you have it, my friends!
What elements have you added to your entryway to spruce things up?
Sort By Blog Topic:
Popular Posts
Subscribe to the The RC Willey Blog Blog
Unsubscribe from the The RC Willey Blog Blog